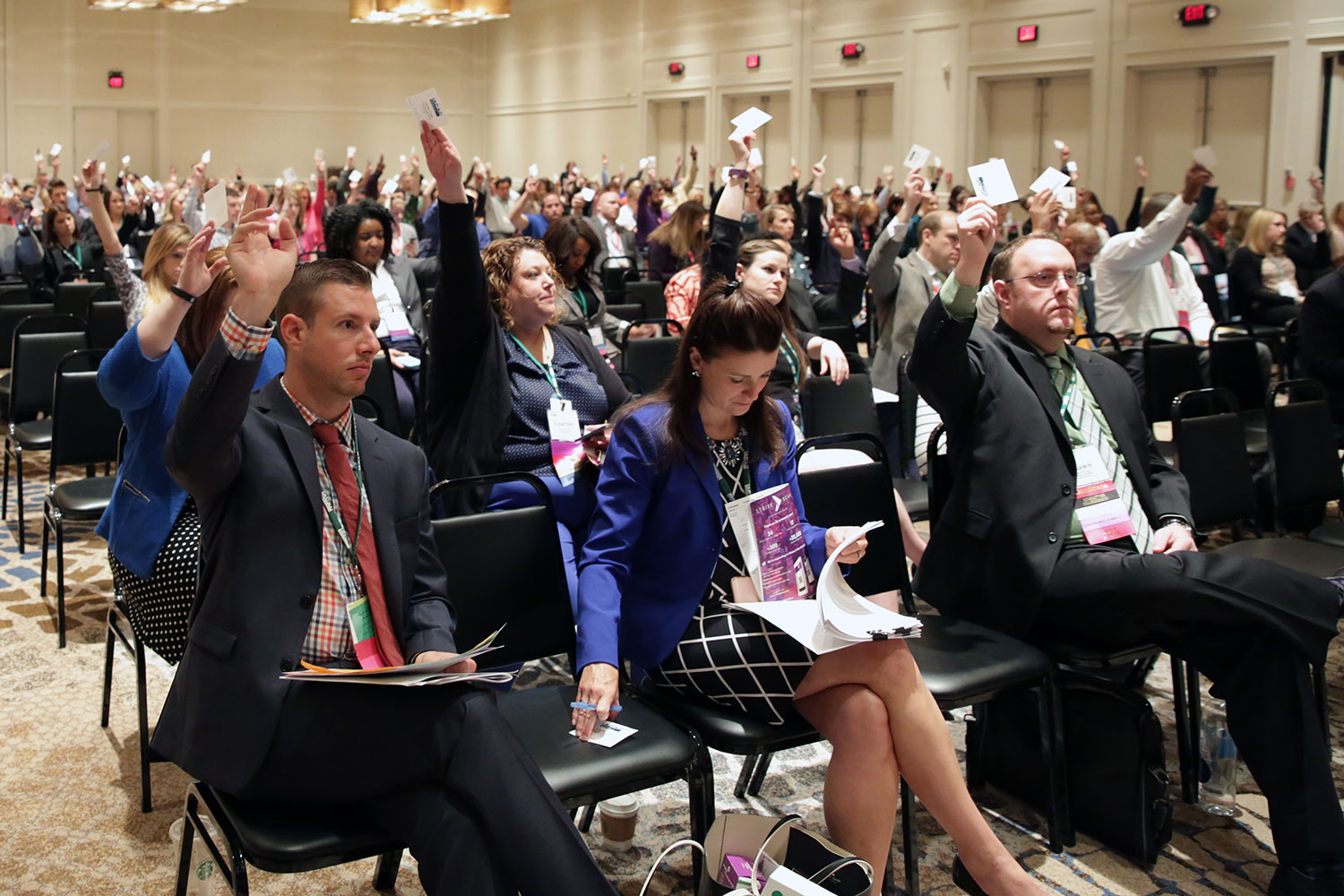 2021 Credentials and Nominating Results
Amy Thompson
York Community High School
IACAC Past President
Thank you everyone for participating in voting on this year's important matters. Here is the voting turnout:
Ballot for IACAC only members:
148 cast /707 total possible = 21%
Ballot for IACAC & NACAC members:
167 cast /468 total possible = 36%
Ballot for NACAC only members:
65 cast /525 total possible = 12%
Clearly, NACAC's sudden increase in membership numbers due to their new membership model means that a large number of ballots were not cast by NACAC-only members. I would expect that, over time, the percentage of ballots cast will increase as members become more knowledgeable about NACAC.
Membership Meeting Minutes
The Membership Meeting Minutes for 2019 & 2020 passed with 99.68% voting to approve both. Thank you to Josephine West (2020) and Renee Koziol (2019) for their excellent record keeping.
Budget
Next was the 2021-2022 Proposed Budget. The budget passed with a vote of 307 in favor and 1 opposed. Thank you to the committee members and chairs who assisted the finance committee with constructing this budget. And a special thanks to Eric Ruiz for his efforts to improve transparency for all.
Membership Model
The Membership Model Ad Hoc Committee proposed changes to the Membership structure. Their motion was to switch to an institutionally-based model which will lower the per person cost as more members from an institution join. This proposal passed with 299 voting in favor of the change (96%) and 12 voting to keep the current structure (4%). This will take effect for the 2021-2022 Membership Year. I want to thank Dan Miller and Rachel Georgakis, along with the Membership Committee Chairs, Christine Grotzke, April Lynch, and Maddie Corder for their hard work over about 18 months to conduct research, survey members, and develop a plan that we hope will incentivize institutions to increase their number of members.
Membership Year
The Membership Committee proposed changing the IACAC membership year from the current October 1-September 30th year to June 1-May 31st so that it matches our fiscal year. This measure passed as follows: 9 members (3%) voted to keep the current calendar cycle and 299 members (97%) voted to move to the new calendar year. This motion has passed and will take effect for the 2022-2023 membership year, which will start on June 1, 2022. Again, many thanks to our Membership Committee for their work and thoughtful rationale for this change.
Bylaws
Now to the 2021 proposed Bylaw Changes. All Overwhelming passed, with only 1 or 2 members voting against any of the changes.
Elected to the 2021-2022 Executive Board
I am pleased to announce the newly elected members of the 2021-2022 Executive Board:
President-elect: Brian Hodges, University of Illinois, Urbana Champaign
Treasurer-elect: Josie Blasdel, McKendree University
Postsecondary Delegate: Derek Brinkley, Columbia College Chicago
Secondary Delegate: Becki Bellito, Vernon Hills High School
Postsecondary Council Team Director: Christian Brown, Augustana College
Secondary Council Team Director: Kelly Dutmers, Loyola Academy
The saddest part of being Past President is that I will leave the Executive Board before having the privilege of working with these talented professionals. The best part is that I know I'm leaving the board in excellent hands. Congratulations to our recently elected board members! And thank you to Julie Nelson, Head Teller, for verifying the election results.