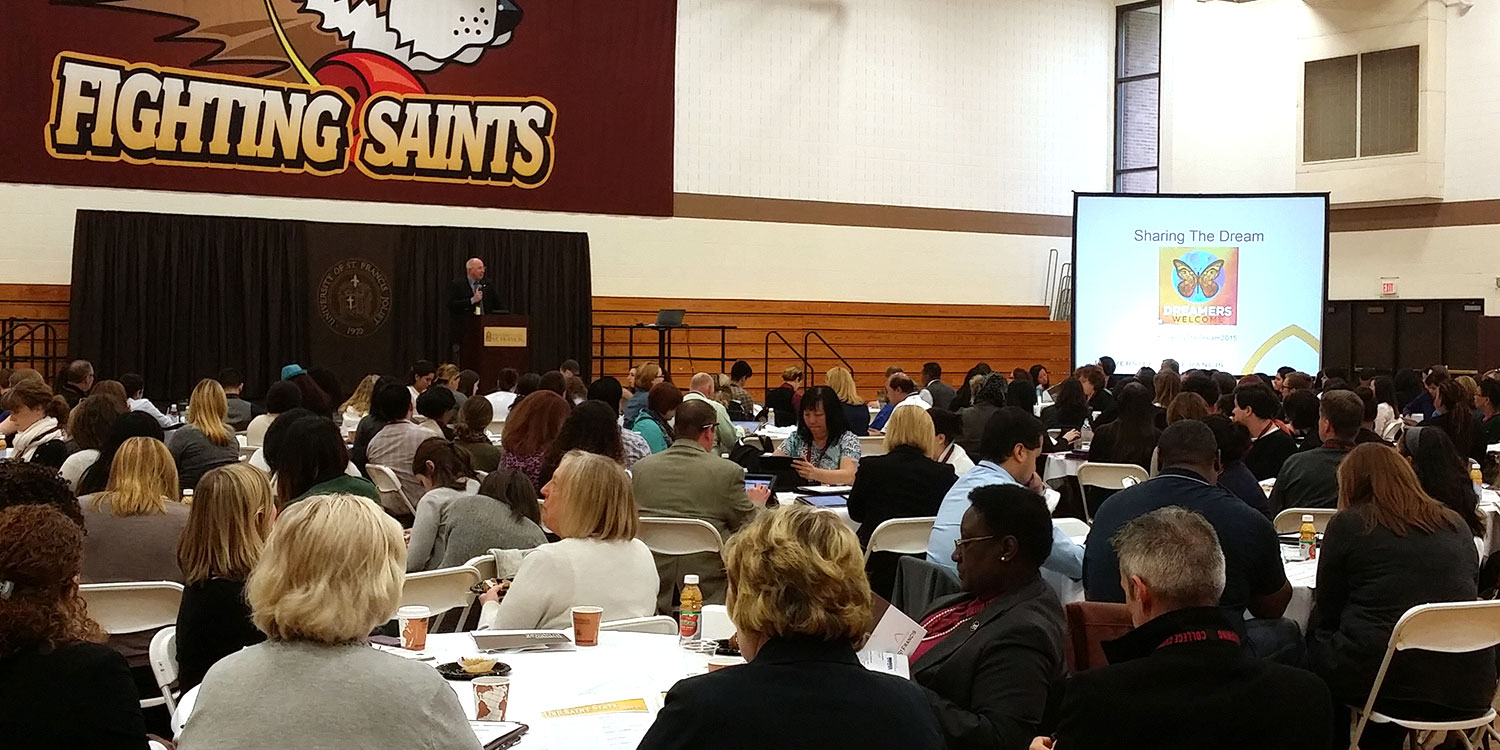 Sharing the Dream 2016
Wednesday, May 18, 2016
9:00 am – 4:00 pm
University of St. Francis
Pat Sullivan Recreation Center
Joliet, Illinois
Join others as we continue the conversation and momentum from 2015 for this second Sharing the Dream conference. This is a day designed to help educators learn how they can support undocumented students on the path to a college degree and beyond.
This workshop is for teachers, counselors, school administrators, college student personnel, admission representatives, counseling and higher education graduate students, and other allies.
Thirteen thousand undocumented students graduate yearly from Illinois high schools. Fewer than half of undocumented young adults ages 18-24 with a high school degree have attended any college and fewer than 10% will enroll in college immediately upon graduation from high school.
Agenda
7:30-8:30 am
Registration and Continental Breakfast
8:30-8:45 am
Welcome & Overview of the Day
9:00-10:00 am
Workshop Sessions I
10:15-11:15 am
Workshop Sessions II
11:30 am-12:45 pm
Lunch and Keynote Speaker
1:00-2:00 pm
Workshop Sessions III
2:15-3:15 pm
Undocumented Alumni Panel: What are they doing now?
3:15-3:30 pm
Closing & Reception
Professional Development clock hours (formerly CPDU credits) will be available through IACAC.
Supported by the Illinois Association for College Admission Counseling
Committee
Todd Burrell, Southern Illinois University Edwardsville
Tanya Cabrera, Illinois Institute of Technology
Mike Dessimoz, Illinois College Access Network
Andriana Esparza, Oakton Community College
Gabrielle Feldman, Professional School Counselor
Alicia Funes, East Leyden High School
Aliza Gilbert, Highland Park High School
Luke Kerber, Aurora University
Mayra Lagunas, University of Illinois
Rodrigo Lopez, Elgin Community College
Dave Marcial, Golden Apple
Elisabet Miramontes, University of St. Francis
Abel Montoya, Illinois Student Assistance Commission
Eric Ruiz, University of St. Francis
Stephanie Szczepanski, Saint Louis University