2017-2018 Committee Chairs
Executive Board Liaison
Member Relations Council Team
Jamie Simon, Council Team Director
Loyola Academy
(847) 920.2519
jsimon@loy.org
Purpose
The purpose of the Government Relations Committee is to inform IACAC members of pertinent public policy issues and upcoming legislation that affects counselors and students. Government Relations members also promote the goals of IACAC to government officials at both the state and federal level.
Activities
The Government Relations Committee meets two to three times per year in addition to a trip to Springfield, where we meet with legislators to discuss current education issues. We also host a session at the IACAC Annual Conference in May.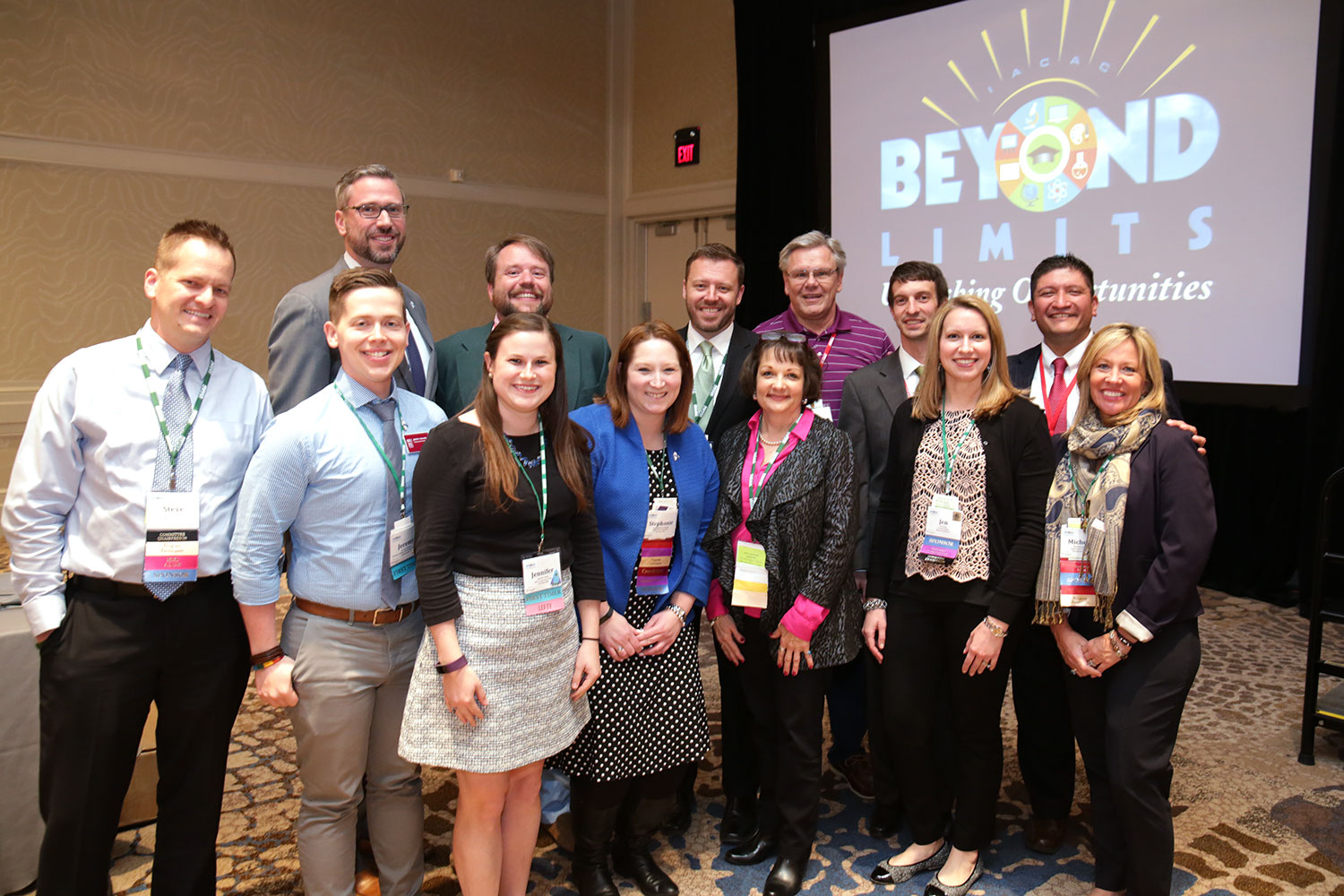 Illinois State Treasurer Mike Frerichs following his address to the 2017 IACAC Annual Conference. Pictured with members of the Government Relations Committee. 
Left to right: Steve Landgraf, Michigan State University; Jeremy Holmes, Southern Illinois University, Carbondale; Jennifer Steck, Saint Louis University; Joe Freeman, Beacon Academy, Stephanie Szczepanski, Saint Louis University; Evan Wilson, Illinois College; Gwen Kanelos, Concordia University Chicago, Bob Freitag, St. Charles North High School; Paul Welsh, Fenton High School; Jennifer Sloan, Cornell College; Roberto Suarez, Homewood-Flossmoor High School; Michelle Rogers, Saint Louis University.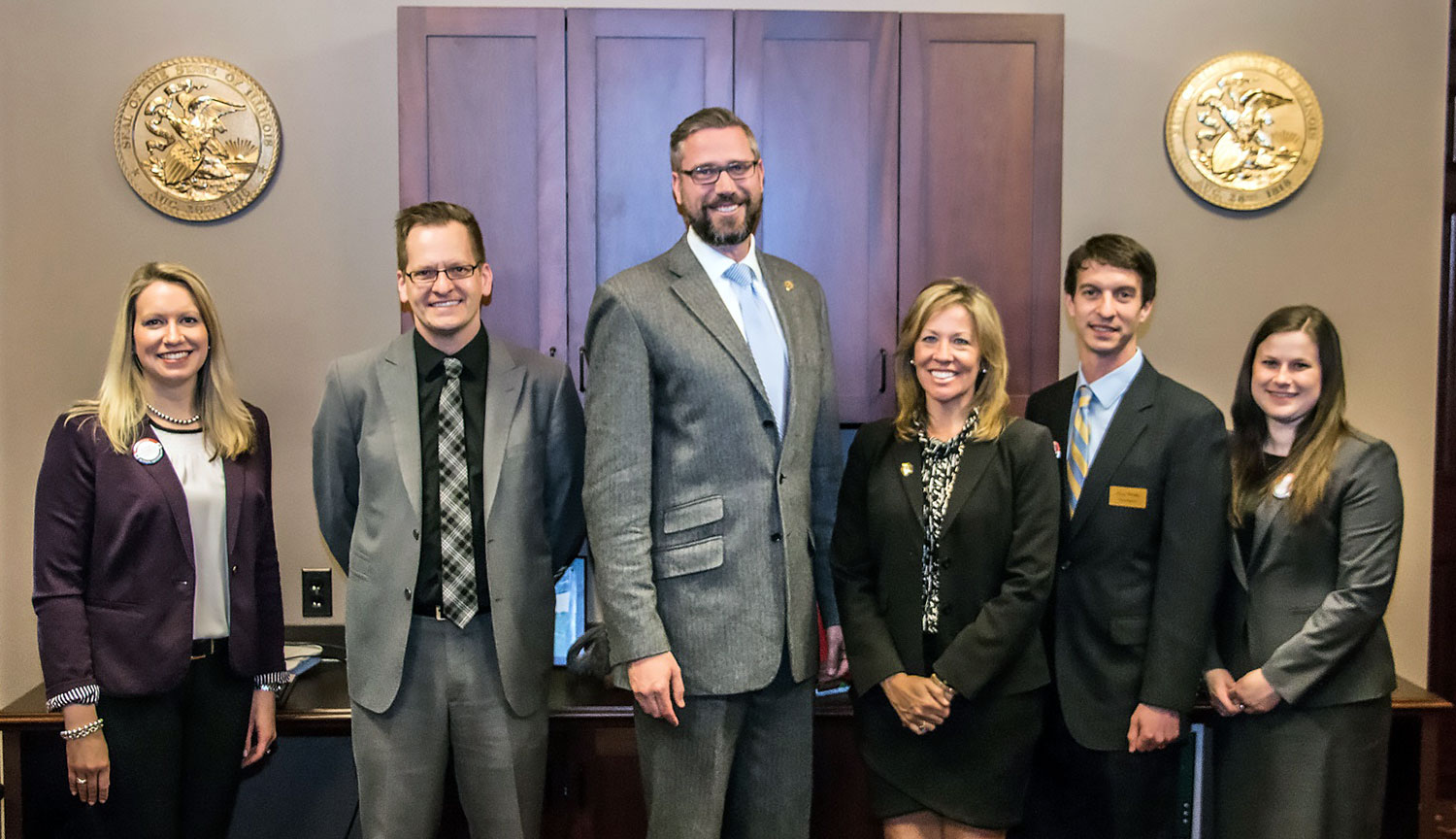 Members of IACAC meet with State Treasurer Michael Frerichs on April 13, 2016 for Advocacy Day. Frerichs is an outspoken supporter of the Monetary Award Program. Learn more
Meetings
There are no upcoming events at this time.
Frequently Asked Questions
I want to support the efforts of the Government Relations Committee, but I am unable to attend meetings or participate in the lobbying trip to Springfield, what can I do?
The easiest thing you can do is to use the NACAC's Legislative Action Center. From here, you can search for current state and national legislation that will affect you and your students and make use of pre-written letters to sign and email to your current legislators.
I would like to know more about issues in education and college access, where can I find more information?
Committee Members
Guadalupe Bautista, North Park University
Chuck Beutel, University of St. Francis
Ziggy Blackwell, Illinois College
John Cadero, Triton College
Bobby Castillo, Illinois Wesleyan
Katie Childs, Bradley University
Laura Docherty, Fenwick High School
Traci Flowers, Loyola Academy
Joe Freeman, Beacon Academy
Robert Freitag, St. Charles North High School
Zachary George, DePauw University
Chassy Golz, Elmhurst College
Brian Hendricks, Carmel Catholic High School
Lisa Hikes, Hinsdale Central High School
Jeremy Holmes, Southern Illinois University Carbondale
Arielle Kalvelage, Northern Illinois University
Gwen Kanelos, Concordia University Chicago
Cindy Kasten, Hinsdale Central
Steve Landgraf, Michigan State University
Gia Maniscalco, Hinsdale Central High School
Julie Marlatt, Parkland College
Jackie Marthouse, Northwestern University
Mike Melinder, University of Iowa
Elisabet Miramontes, University of St. Francis
Bill Morrison, Highland Park High School
Luis Narvaez, Chicago Public Schools
Destiny Nobles, Calvin College
Eileen Rancharan, Concordia University Chicago
Jamie Simon, Loyola Academy
Jennifer Sloan, Cornell College
Jennifer Steck, Saint Louis University
Stephanie Szczepanski, Saint Louis University
Mark Weber, University of St. Francis
Paul Welsh, Fenton High School
Josephine West, Ohio State University
Evan Wilson, Illinois College