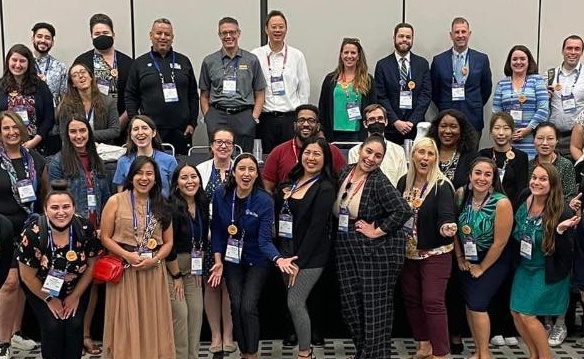 NACAC National Conference Recap
Recap of NACAC Conference 2022
We are very fortunate to hear from two of our IACAC members about their conference experience.
Kristina Luster, Mount Carmel High School wrote:
"The NACAC Conference in Houston was a great opportunity to network, learn best practices, and soak in all of the issues that are impacting college admission currently. Specifically when it comes to my role as cochair of the GRC committee. In my meeting with ACAC Government Relations Co-Chairs and David Hawkins it was reaffirmed that IACAC is a leader within the realm of government relations. I was able to learn about a certificate program from PACAC and we plan to partner with them in the future.

I was impressed by the high school profile session I attended and will be revamping my profile for next school year based on the sessions content.I learned about the implications of the affirmative action case that the supreme court is set to hear in October. This information has helped me with a deep understanding that will allow me to assist in an IACAC response if or when the decision is made.  The network I have built within IACAC and SACAC is invaluable and I was grateful to reconnect.

There is always room to reevaluate and change things up. The way you have done things in the past isn't always the way you should do it in the future. The school profile session reaffirmed this.  The work I do with GRC is incredibly important. While attending the conference it became even more clear how important advocacy work is on the local and national level. With NACAC taking a step back it is more important now than ever to be active and engaged in government relations work."
Luis Narvaez, City Colleges of Chicago, wrote:
"As a representative of the Community College side, we are often forgotten during these types of conferences. For me, it was important to provide the voice of my institution, represent IACAC at the national conference, and as the Chair of the IACAC Hispanic SIG, I also wanted to learn what other Hispanic SIGs had been doing across the nation to empower professionals who identify as Latinx and those who work with this student population.

As a Latinx administrator, we continue to be underrepresented within the counseling and admissions world. A space like the Hispanic/Latinx SIG is a great opportunity not only to build community but to promote jobs and other opportunities within each other and task ourselves with the recruitment of more professionals in this field. Another takeaway was to take a close look at the needs this generation of students bring from having come out from the pandemic as their new selves, and to collaborate with their parents/stakeholders, particularly for low-income and BIPOC, to ensure they feel colleges are truly catering to their needs. And the last one is just how amazing it felt to work into our state assembly. It was great to see so many familiar faces in a space outside of Itasca, and to be introduced to the new board as we prepare to spring to Springfield this coming Spring.

I am going to continue to elevate the voice of the community colleges within this field and remind the organization the key role we play, particularly with low-income, BIPOC, and students with limited English proficiency. I also want to continue to elevate the Hispanic/Latinx SIG, increase its membership, and put out programming that continues to build community within this group of professionals as well as advocate for this student community. I am leaving this conference inspired knowing that I am not the only one and that I have my association's backing to continue to move upward as a professional within the field of enrollment management."
Thanks to Luis and Kristina for sharing such powerful stories about the NACAC conference!