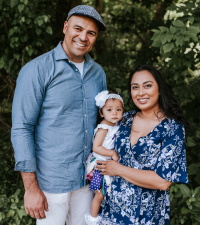 Member Spotlight: November 2020
This month's Member Spotlight features Rio Saucedo, High School Admission Representative at College of DuPage.
How long have you worked in counseling?
18 years
How did you get into counseling?
My first job in Admissions was a student worker and Student Ambassador for Roosevelt University. I enjoyed giving tours and talking about my college experience. Finding out some of my classmates selected the college after their tours made me feel purposeful. After, I graduated with my Bachelors of Arts I stayed in Admissions but as an Admission Counselor for my alma mater.
How long have you been an IACAC member?
18 years
How have you been involved in IACAC?
Executive Board Secretary 2005-2007, Conference Entertainment Committee 2005 and Co-Chair of Entertainment Committee 2006, Summer Institute Committee 2006
What do you love most about your job?
I really love the connections I have made over the years. The connections come from all facets of my job. Starting with the students that stayed in contact with me, even after graduating, the counselors at the high schools that partner with me in order to help ease the college selection process and finally the other counselors and recruiters that I met at fairs and conferences that share the same passion for college admission process. The connections has made my time in college admission truly special.
What is the most common college process concern you see among your students today?
The most common college process concern I see among my students is the stigma with attending a community college. Although there have been some improvements with the perception of attending a community college, I still see too many students that are reluctant to select it as their first choice due to misconceptions of a community college education.