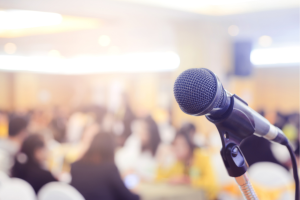 The Re-imagined Speakers Bureau, a Silver Lining to our Current World Craziness?
Carin Smith
Beloit College
Last May I spent several days letting the isolation and lack of control brought on by the pandemic send me into full-on cranky-pants, mopey whining. For those of you who know me, you know this is not my typical. As a matter of fact, I normally have little to no patience for this in others, let alone myself. The tipping point was the fact that I was living in Northern California – the same area as 2 of my 3 children and we were all supposed to be in Des Moines, Iowa celebrating the college graduation of my youngest child from Drake University. This was all just too much for me, she was two freaking time zones away from the entire remainder of her nuclear family for a day that was supposed to be filled with much celebration and hugging. I cried a lot. I slammed cupboards. I railed at the evening news and pretty much all of humanity. And finally, I realized I had to either run the risk of alienating the few people I could actually spend time with or get my act together. Thankfully, I managed to accomplish the latter. I started telling myself that maybe, just maybe some good could come out of the world tipping on its axis. What might we be able to try that hadn't been necessary in our old normal? What did we actually have time to think about in our hours of non-person contact that we hadn't taken the time to think about during non-pandemic times? What projects might we take on or re-imagine that not a single person could legitimately tell us wouldn't work because, well, who had ever done anything in the midst of a global pandemic before? Who could legitimately say, "well, that's not going to work?" or, "that's a completely crazy idea?"
Just about the time I was getting some momentum behind my re-discovered glass-half-full demeanor, I got a call from my friend Megan O'Rourke, IACAC President-elect – who I had watched (again, from afar) gracefully maneuver the first all-virtual IACAC Conference EVER. Megan asked if I would take on the task of working with the Professional Connections Committee to reimage, retool (or retire) the IACAC Speakers Bureau. I was simultaneously giddy, honored and daunted by this ask (but who says "no" to Megan O'Rourke?). Three months later, I'm pleased to report, the IACAC Speakers Bureau has been re-imagined and re-launched.
What is new and different about the Speakers Bureau?
Access to a library of recorded virtual sessions – thank you StriveScan!
Virtual speakers AND live speakers (when the world rights itself again)
User friendly Request for Speakers and Volunteer to Present forms (thank you Erin Hoover)
Offering the Speakers Bureau to partner organizations (ISCA, ISAC, etc.)
How does the new Speakers Bureau better address the needs of students, families and counselors?
WE CAN GO ANYWHERE!! Virtual presentations can be done in rural communities, multiple communities and marginalized communities.
Virtual presentations are cost and time efficient.
Presentations to and with partner organizations are being actively promoted
Who did this?
A subset of individuals from the PC Committee & a few others: Kim Wiley, Deerfield HS; Kathryn Hankamp, St. Norbert College; Lisa White, Olympia HS; Annette Braden, Norris City-Omaha-Enfield Schools; Megan O'Rourke, Providence College, Erin Hoover, IACAC & StriveScan
Why is this important?
Because this is what we do best as a profession, we lean in. I would argue we are some of the best leaner-inners on the planet!

We support students and families going through a process that is scary and unfamiliar and constantly changing. We know what the process looks like, we talk about it all day every day, and we know how blissful the end result almost always is for students and families.
We are not daunted by a world tipped on its axis – nervous & irritated sometimes? – of course, but not for long. We lean in, we reimagine, recreate and retool.
Now what?
And remember, leaning in almost always feels a whole lot better than cupboard slamming!