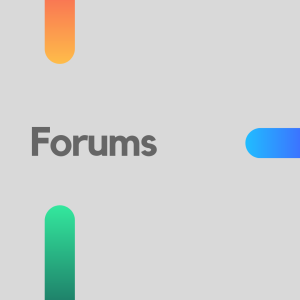 Why We're Making the Switch from the Listserv to Forums
Erin Hoover
IACAC Communication Specialist 
We get it. Everything being thrown your direction right now is new; from the way you start your work day to the way you end it, and every step in between. Your brain is likely on overload just trying to keep up day to day. While the something new that IACAC launched in July meets many of our members' virtual connection needs right now, we realize it isn't exactly what you may want to explore in what little, if any, free time you have in your day. But, when you do have some free time, we wanted to share a bit more about the software background and why we're making the move from the old listserv to using the Forums feature.
As mentioned in the July Admission Essay post, two years ago our members only software vendor announced a price increase, prompting us to do a complete evaluation of that software and member feedback related to it. What we discovered was that our organizational and individual member needs had far outgrown that software and it was time for a change. The plethora of features within the new members only software are incredible, but for now, we want to focus on the one feature, in particular, we'd like members to move towards using: Forums.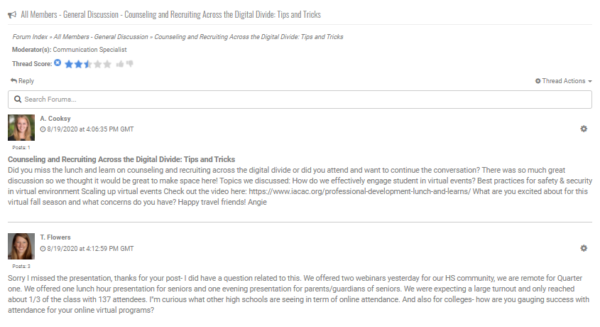 Over the past few years and then within a survey we conducted last year, we heard from members that they wanted some segmentation to the listserv so we've tried to create forum categories that fit that as well as provide the opportunity to opt-in and opt-out based on those categories. The first forums we developed were based on a question we asked on a past survey: "What needs is the listserv not currently meeting? What features would you like added?" The responses were:
Search option

Archived conversations

Ability to see replies

College only listserv and HS only listserv

Current news, global issues, and policy changes within HS and Higher Ed

Promotion of more professional development opportunities
We also heard from many school counselors that they wanted event/webinar information, invitations, and promotions to be shared/allowed on the listserv but we also heard from many others that they didn't want this information shared individually to the listserv. In the fall of 2019, we moved the College Admission Update to an all-digital database format and added a section for colleges to include their counselor specific programming. We used to charge member institutions $80 to add their information, but recently opened it up for free. Although the College Admission Update is a great place for colleges to post their counselor program information, we still wanted to be able to find a place where other events, such as the CARR Counselor Update Day or a Big Ten Breakfast etc., could be shared quickly and easily with all of our members, not just those on a particular organization's contact list.
Additionally, 82% of members said they still preferred that we not allow Reply All on the listserv. Since there's no way to disable that option on the listserv, members that became frustrated with group replies often unsubscribed, leaving only about half of our members on what is currently the listserv. Several years ago, we opted everyone into the listserv and still lots of people wanted off. Now there are increased laws about opt-in and requiring an unsubscribe option on everything. With the new Forums, posts are still accessible to view, even if a member doesn't subscribe to them; the current listserv is all or nothing. 
The Media Communications Committee also heard feedback, individually and through the survey, that members wanted us to stop being the listserv police (though we much prefer the name Etiquette Experts) so we've relaxed our enforcement a bit given that, given the pandemic, and given the new software rollout. We're in the process of reviewing and updating the current listserv policies/agreement. We're working on flushing out what needs to stay, what needs to go, and what needs to be updated within that "listserv agreement." It may take us some time to see how members are using the new software to then determine a final policy for the new Forums. So, for right now, we ask that you just be professional in what you post within the Forums.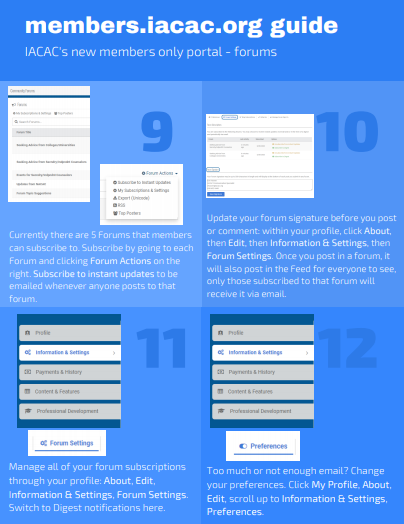 Let's run through a fun scenario of what happens when someone posts within the new Forums: all of the responses are available to see in real-time, saving the poster the step of sending them as well as allowing people an extra layer of engagement not previously available. That post will also be available for someone that joins IACAC tomorrow giving that new member instant insight into the things our members are talking about and have talked about in the past. Forum posts also post to the main social feed so people who aren't subscribed can still see them. We know it's going to take a while for everyone to catch on but we hope you will take some time to familiarize yourself with the Forum feature soon. You can find a step by step guide on how to add your signature, set your subscription settings, and more within the Help section of the members only website (must be logged in to see the Forums guide). If at any time, you need assistance, have questions or suggestions, please don't hesitate to reach out to me at ehoover@iacac.org. I'd be happy to join you on Zoom to troubleshoot or walk you through anything.