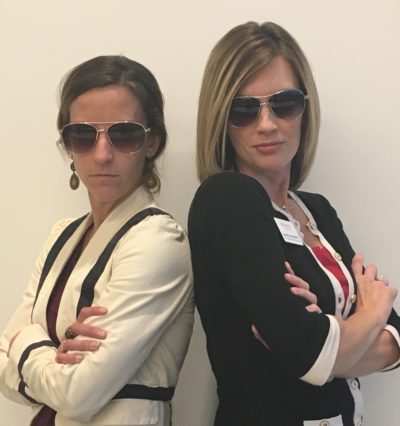 Ask the Etiquette Experts
Sarah Daugherty
Bradley University
Jill Diaz
University of Colorado-Boulder
One of the many responsibilities bestowed upon the IACAC Media Communications chairs is the management of the IACAC Listserv.
The Listserv is meant to be an email forum where IACAC members can communicate, share thoughts, and ask questions. We are the lucky individuals tasked with making sure all posts appropriately meet the guidelines of our IACAC Listserv Policy. Call us the "Listserv police" if you must, but we like to think of ourselves as "etiquette experts" instead! We are not here to censor you or put you in time out, but rather, remind you of the appropriate way to use this fantastic member resource.
We know some of you may have questions regarding what is and is not allowed in your posts. No one wants to see that dreaded IACAC Listserv Policy/Etiquette Reminder email. Please feel free to send us any questions you have at mc@iacac.org; we are happy to help!
Below are some common "violations" to help clarify any confusion.
Dear Etiquette Experts,
I have an amazing answer to a post I saw on the Listserv. Can I reply to all so everyone can see my awesome answer?   
-Laura, in a lunchroom visit & hangry
Dear Laura,
Please don't! Even though I am sure your answer is indeed awesome, IACAC prefers that you simply reply to the person who issued the original post. This subscriber may then offer to follow-up with a summary of the responses received so we all benefit from the knowledge without having our inboxes flooded with multiple replies.  We have enough of that already, am I right?
---
Dear Etiquette Experts,
What about promoting a business or vendor services? Is that allowed?
-Tom, trapped in traffic
Dear Tom,
Promotional, commercial, and advertising use is prohibited on the IACAC listserv. BUT, we do have options for you! Explore the many methods of reaching our members in our Advertising Opportunities.
---
Dear Etiquette Experts,
My high school/college is holding a college fair. Can I share the invite on the Listserv?
– Rachel with way too many recommendation requests
Dear Rachel,
Instead of posting on the Listserv, we invite you to contact the Illinois College Fair Committee to see about adding your event to the College Fair Calendar. The College Fair Calendar is posted on the IACAC website for all to see.
---
Dear Etiquette Experts ~
My IACAC committee is holding an event/professional development workshop/conference, etc. Can I promote this on the Listerv?
-Steve, stuck in a meeting that should have been an email
Dear Steve,
YES! Please feel free to share all IACAC-sponsored events with your colleagues on the Listserv. Your committee may also work with Erin Hoover, IACAC Communication Specialist, if you would like an official IACAC email created for you.
---
Find more suggestions on the IACAC Listserv Policy page and please reach out to your Etiquette Experts whenever needed this year.