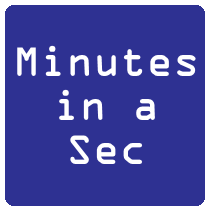 Minutes in a Sec – May 2019
The "Minutes in a Sec" memo, a compilation of motions passed and highlights from our recent Executive Board meetings, was presented this past spring in an effort to keep our membership more informed. The IACAC Secretary and Media Communications team look forward to sharing this with you on a regular basis. As always, our Meeting Minutes are available at Meeting Minutes & Reports for your review after they are approved at the next Executive Board Meeting. Please enjoy these highlights from May!
IACAC Executive Board Meeting
HIGHLIGHTS and MOTIONS
Wednesday, May 29, 2019
Elmhurst College
HIGHLIGHTS
Treasurer: The finance committee will be completing a thorough review of the fiscal policy.

Chief Delegate: Department of Justice Investigation – Since action will take place in September for the Assembly meeting at NACAC, the 2019 delegates will be asked to consider the changes.  There is a revised NACAC membership model that was developed in response to the concern raised to last year's proposed membership model.

President elect: The IACAC annual conference is scheduled for April 22-24, 2020.  If anyone is interested in a particular committee chair role or has additional feedback or suggestions, please reach out: meganorourke@providence.edu.

President: The credentials and nominations committee is being formed.  If you have interest in serving on either committee, please reach out to Patrick Walsh (pjwalsh2@ilstu.edu) indicating which committee you would like to serve on.

Past President: The 2019 IACAC Annual Conference #NormalinNineteen was a huge success with amazing sessions, an inspiring keynote address by Akil Bello, and updates from NACAC Board member, Chris Reeves.  As committee chairs and liaisons continue their work this year please keep in mind our Legislative Agenda. We should take some time to consider the larger issues of why we do what we do and how we would like to see problems solved in Illinois.
MOTIONS
S. Szczepanski motioned to approve the March board meeting minutes, M. Ford seconded. Motion carried.

S. Szczepanski motioned to approve a one-time $200 subsidy for 40 plane tickets (in the amount of $8,000) to help afford the 2020 Plane Tour to the Pacific Northwest, E. Updegraff seconded. Motion carried.

T. Flowers motioned to accept the first-time conference proposal; A. Thompson seconded. A. Cooksy made a friendly amendment to expand the First-Time Conference Proposal to secondary and post-secondary first-time presenters in Illinois, including lodging (consistent with fiscal policy) for two nights and membership (for nonmembers only) to be granted for up to 6 attendees. T. Flowers accepted the friendly amendment. Motion Carried.
Please see the complete version of the IACAC Exec Board May 2019 Meeting Minutes available on the IACAC Website.