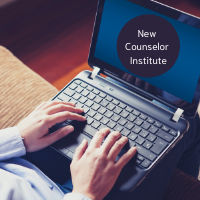 SI Turned New Counselor Institute
Derek Brinkley
Columbia College Chicago
Sarah Goldman
University of Oregon
Maira Rodriguez
Marquette University
The last couple of months have been tough, but we keep finding joy in the little things. As the co-chairs of the Summer Institute committee, we often reflect on why we do the work we do. We think back to our first few years in the industry and how the support, mentorship, and friendship we found as new admission professionals was and continues to be so important to our work every single day. This is why we are a part of Summer Institute and why we think it's vital to introduce new admission professionals to IACAC as we help them navigate their first years in the industry. Joining us in this belief are our incredible Summer Institute committee members, who bring with them a total of 127 years of admissions experience. WOW!
Due to the pandemic, we had to scrap our original in-person, 3-day event plans for this past summer's programming. We knew the cancellation was out of our control and we wanted to keep everyone safe. Obviously, this was the right decision for all involved. However, rather than giving up the opportunity to serve our newest colleagues, we decided to move forward with a new structure. Drum roll please…Summer Institute has been reimagined as a virtual, year-long program we are calling New Counselor Institute or NCI. Our Summer Institute committee worked swiftly to adjust our plans to a virtual setting and extended timeline, and we are thrilled to report that the program is off to a great start!
We have over 80 participants for NCI and these new professionals span all sorts of institutions; in-state and out of state, private, public, 2-year, 4-year, and all sorts of others. They are full of energy and excited to get to work! Each month, our committee hosts a group Zoom session that covers a topic like relationship building, financial aid, holding space for self-care, and other important aspects of our work. After each large group session, we break into smaller groups to debrief, discuss the day's session, and come together as peers to process what's going on in our office, life, or the world. These small groups are led by members of the Summer Institute committee, and oftentimes, our relationships and communications extend outside of these groups. Smaller groups are getting together on a regular basis for bonding, texting each other through group chats, and sharing articles about the industry. We are thrilled that despite the exceptional need for social distance right now, that we can still build community and make new connections.
It's been incredible to see the comradery built in such a short amount of time. While we certainly miss the in-person element of the traditional Summer Institute experience, we hope that this reimagined New Counselor Institute is providing an engaging professional development experience for the newest members of our profession. Thanks for the support of IACAC leadership, our incredibly creative and flexible committee, and reliable internet connections, we've been able to find the good this year through NCI.