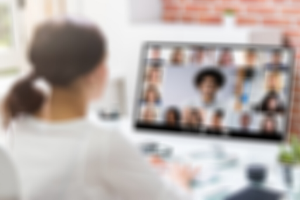 Reflections from Two NACAC Conference First Timers
Jessica Avila-Cuevas
College of DuPage
There is always a first time for everything. This was my first time as a NACAC attendee during its first Virtual Conference. As we all know, the COVID-19 pandemic has set a number of unprecedented challenges; however, NACAC offered creative ways to engage college admissions and counseling professionals by attending the Annual Conference from their home.
After being in the admissions field for 8 years, I thought that this would be a great year to attend the NACAC Conference by taking advantage of an IACAC Professional Development Grant. However, once the pandemic began and the uncertainty of in-person events, I decided to forego that process. Luckily, just weeks before the Virtual Conference, NACAC announced that they would generously provide grants to its affiliates. I was excited to hear about this opportunity and was one of the recipients!
During the week of the NACAC Conference, I sat down in a variety of breakout sessions and had the opportunity to meet with a couple vendors that would be essential in my new role as a Coordinator of Enrollment Communications. One of the most highly anticipated aspects of the virtual conference was attending the super sessions, including Ibram X. Kendi's session. This one-hour conversation was empowering and motivating as he made a push for anti-racist policies in our schools and institutions of higher learning. So many lessons were learned from this conversation and I hope that educational institutions can practice anti-racism in a variety of ways, from standardized testing to admission practices, in order to progress toward a just and equitable society for all students.
I was not sure what to expect out of a virtual conference, besides attending the livestream sessions and meeting with vendors. However, NACAC offered an interactive portal for people to engage with other attendees and view other sessions through their Playback tool. In addition, attendees will receive access to continuing professional development by accessing on-demand virtual conference recordings.
My first time as an attendee was like no other. Although I had always anticipated being in-person to meet and reunite with colleagues at my first NACAC Conference experience, it was beneficial to be a part of this virtual professional development event. As the virtual world is becoming a new normal, it is crucial to take advantage of these opportunities while we can. Thanks once again to NACAC and IACAC for giving me the opportunity to be a part of the first NACAC Virtual Conference!
Bianca Tomassetti
Notre Dame College Prep
I'm fairly new to the College Counseling field, and my goal is to participate in as much professional development as I can to learn more about college admissions. As a second year counselor, I often heard about the famous National Association for College Admission Counseling Conference. I was eager to register for the opportunity to participate in this event. Unfortunately, due to COVID-19, the format of this conference would not be possible to be hosted in-person. When I saw the Illinois Association for College Admission Counseling promoting emails about applying for a grant to attend a virtual format of the conference, I was extremely interested! Being chosen as a grant recipient was an honor! I was excited to be able to share with my Notre Dame College Prep community that I was selected for this grant to participate in the biggest conference in college admissions.
For a first timer, this was an interesting experience, as I was unable to have the face-to-face interactions that the college admissions world always talks about. Overall, I truly enjoyed the experience, and accomplished the goal I was determined to achieve: participate in professional development. Listening to the keynote speakers and participating in the breakout sessions were truly helpful with navigating college admissions during these unprecedented times. It was amazing to hear that we are all truly in this pandemic together, and everyone is chartering waters of unfamiliarity. At the end of the day, we are all in the field together to support academia and our students! I'm proud to be part of an amazing organization.