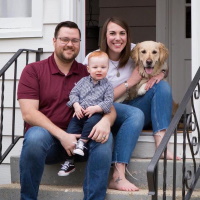 Member Spotlight: October 2020
This month's Member Spotlight features Bridget McMinn, College Counselor at Boylan Central Catholic High School.
How long have you worked in counseling?
3 years
How did you get into counseling?
In college, I worked in the academic advising office. I found so much joy and purpose in that role that it led me down a winding path of helping others. I took a few detours along the way. First in Human Resources at a community college. Then becoming an admissions representative for a small, private college. Ultimately, my destination became clear that counseling was where I needed to be. I went back to school at that point.
How long have you been an IACAC member?
5 years
How have you been involved in IACAC?
I have not been involved but after this year, I would like to find ways in which I can be involved.
What do you love most about your job?
I love seeing the growth and resiliency in students. This year especially!
What is the most common college process concern you see among your students today?
This year, it is all about SAT/ACT. Students and families are worried about what test-optional "really" means at each school. They are worried about trying to find a test after multiple cancellations. They are worried about feeling as if they have no choice to send in a score if their program at that university still requires a test score. They are worried about scholarship dollars traditionally driven by test scores.