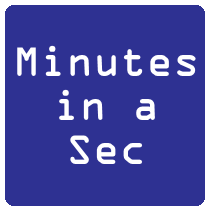 Minutes in a Sec – June 2020
The "Minutes in a Sec" memo, a compilation of motions passed and highlights from our recent Executive Board meetings, is an effort to keep our membership more informed. As always, our Meeting Minutes are available at Meeting Minutes & Reports for your review after they are approved at the next Executive Board Meeting. Please enjoy these highlights.
IACAC Executive Board Meeting
HIGHLIGHTS and MOTIONS
Friday, June 12, 2020
Meeting conducted via Zoom
HIGHLIGHTS
Treasurer:

The finance committee continues to complete a thorough review of the fiscal policy.
Reviewed 2020-2021 budget income and expense account proposal.
The finance committee met on Monday (6/8) to discuss roles and responsibilities of the treasurer/finance team.
Treasurer-elect (approves reimbursements), Treasurer (processes payments), Past Treasurer (reconciles payments).

Chief Delegate:

With the DOJ issues, NACAC remains in a monitoring period with the CEEP.
NACAC Survey for Minneapolis Conference. Link to survey in 6/10 NACAC Bulletin. Concern about safety due to pandemic and protests.

President-elect:

Currently in the process of building the conference team for 2021. Focus is on developing a diverse team of conference leaders, one that is representative of our organization, to ensure all perspectives are fully expressed in our shared 2021 conference experience.

Past President:

Taking over Nominating and Credentials committees
Review of Leadership Manual

President:

Committee chairs who had their event cancelled will stay on next year with the addition of 1 new for a total of 4 chairs.
Set up virtual meeting with her on the link to go over ideas for your committee.
LDI survey – might have the ability to meet in person in July based on COVID-19 guidelines
PD Ad-hoc – look at structure of the board. Joe Freeman gave update about first meeting.

Identified need for virtual PD opportunities – possible virtual conference – long term PD structure
MOTIONS
E. Updegraff motioned to accept the proposal to partner with StriveScan to offer virtual options for students in the fall in light of the pandemic; A. Cooksy seconded. Motion carried.
O. Soloman motioned to approve the reimagined Summer Institute; S. Williams seconded. Motion carried.
Please see the complete version of the IACAC Exec Board June 2020 Meeting Minutes available on the IACAC Website.