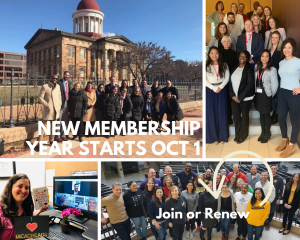 Open Your Door to IACAC Membership
Madalyn Corder
Naperville Central High School
Chrissy Grotzke
Michigan Technological University
April Lynch
Syracuse University
As professionals talking about the college experience, we know that the college is what a student makes of it. The college could have Division I sports, an award winning marching band, a trillion student organizations, co-ops, internships and research for days, but if the student goes to class, quietly sits in the back of the room and spends most of their free time closed up in their dorm room, did they really make the most of their experience?
October 1st starts a new membership year and as your membership committee co-chairs we encourage you not just to renew your membership, but open your door to all the possibilities this organization has to offer. Join a committee, attend a virtual event, use the digital forum to connect with a friend, and invite others to "come on in." Make this the year you get the biggest return on investment in your own professional development.
This year more than ever, we need each other. There is a change and a challenge every five minutes and while we are used to working in a fast paced field (which most of us thrive off of!) even this year leaves the most extroverted of us out of breath and seeing stars. The best way through challenges is not to go at it alone, but together. Working through problems, bouncing ideas or heck maybe even just commiserating at how sick you are of this virtual world already. This is more than a professional organization, this is friendship, this is partnership, this is a community.
Renew your membership and bring a friend along for the ride. Most of all, don't forget to keep your door open — you never know what might happen!