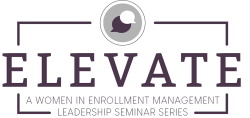 Elevate (verb) – to lift up
Angie Cooksy
Bradley University
For those who know me well, you know that the phrase, "I have an idea", is a regular part of my vocabulary. In 2019, I shared those words with Courtney Wallace and members of the IACAC executive board, wondering if IACAC had space to offer additional professional development for those who identify as women in our industry. Over a few phone calls, some late night text messages and a lunch in Libertyville, Elevate was born.
What is Elevate? It is a professional development seminar series designed for women with more than eight years in higher education enrollment management who are looking to take the next step in their professional career or expand their professional portfolio. Maybe you seek to be the next dean or director in enrollment management. Maybe you are looking to become the department chair in your office. Maybe you are looking for additional tools to champion your own ideas in staff meetings. Leadership isn't necessarily the person with the big title, it often comes from those who know how to influence and champion others. Elevate is designed to give you space to examine your own leadership style.
Over the course of 2021-2022, the first Elevate cohort will meet four times in person. Each day is designed around a specific topic or theme, with both individual assessment and professional networking built into the schedule.
Seminar 1 – Owning Your Professional Voice
Wednesday, June, 23rd 2021 – Bradley University, Peoria, IL
Seminar 2 – Defining Your Professional Brand
Wednesday, August 11th, 2021 – Augustana College, Lombard Office
Seminar 3 – Navigating Relationships
Wednesday, December 15th, 2021 – Bradley University, Peoria, IL
Seminar 4 – Empowering Your Leadership Identity
Wednesday, February 23rd, 2022 – Augustana College, Lombard Office
Registration will open May 10th at 10:00 am CDT and is limited to 25 participants. We hope you can join us. Your voice matters in this field. When we elevate ourselves and each other we all benefit.
Cost for Series:
IACAC Members $25
Non-IACAC Members $100
Feel free to reach out to elevate@iacac.org if you have any questions.