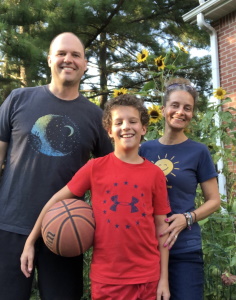 Member Spotlight: April 2021
This month's Member Spotlight features Erinn Murphy, College Counselor at Carbondale Community High School.
How long have you worked in counseling?
16 years
How did you get into counseling?
I always liked the idea of working with students, and I considered teaching as a career, but I earned a business degree and worked in fundraising before joining the Peace Corps. That experience taught me SO much, and it inspired me to return to graduate school for educational psychology.
I loved every minute of my graduate program at SIUC, and I feel like school counseling/college counseling has been a career that marries many of my interests and skills and encourages ongoing learning and growth.
I am grateful to do work each day among students that inspire me and in a field that teaches me something new on a regular basis.
How long have you been an IACAC member?
4 years
How have you been involved in IACAC?
I stretched my technology skills (ha!) by moderating several virtual college fair sessions in the fall, and I have been sooooo impressed with virtual programming offered to students this year. Thanks, thanks, thanks to all of the reps who have spent their year on zoom talking to students (or to black boxes) about college options.
A highlight for me this year has been the opportunity to participate in the Inclusion, Access and Success Committee's White Supremacy in Higher Education series. I have learned so much from IAS committee meetings and events.
I am also co-chair of the High School Counselor Professional Development committee with the amazing Andrea Rusk, and it has been a highlight this year to work with her and so many talented and engaged colleagues to offer four Counselor Camps. The committee work this year felt normal and proactive, which was extra special considering how weird everything else has been.
Lastly, I enjoyed zooming in for this year's annual conference!
What do you love most about your job?
Working with high school students! I love their stories, their questions, their energy, and it is such a joy to play a small part in watching their goals become reality.
I am kind of transcript obsessed, and I use any student meeting as a chance to review his or her transcript. It is fun (for me) and empowering (for the students) to discuss strengths, academic and personal interests and skills that the transcript illustrates.
I also really love working with students on essays. It is such a professional honor for students to trust me to talk through, read over and offer feedback to their personal writing, and I treasure the every opportunity to do so.
What is the most common college process concern you see among your students today?
Outside of how to pay for college, I think a big concern in April of 2021 is completing the circle from application to admission to enrollment to feet on campus. I am concerned about summer melt, or COVID melt, and I think every effort from high school counselors, college counselors and admission teams to stay connected, offer support and encourage next steps with this year's graduates is time well spent, maybe more this spring and summer than ever.
I'm amazed at the creative communication methods and layered outreach so many campuses and counseling offices have put in place this year, and I believe every effort to support students through their next steps makes a positive impact for years to come.