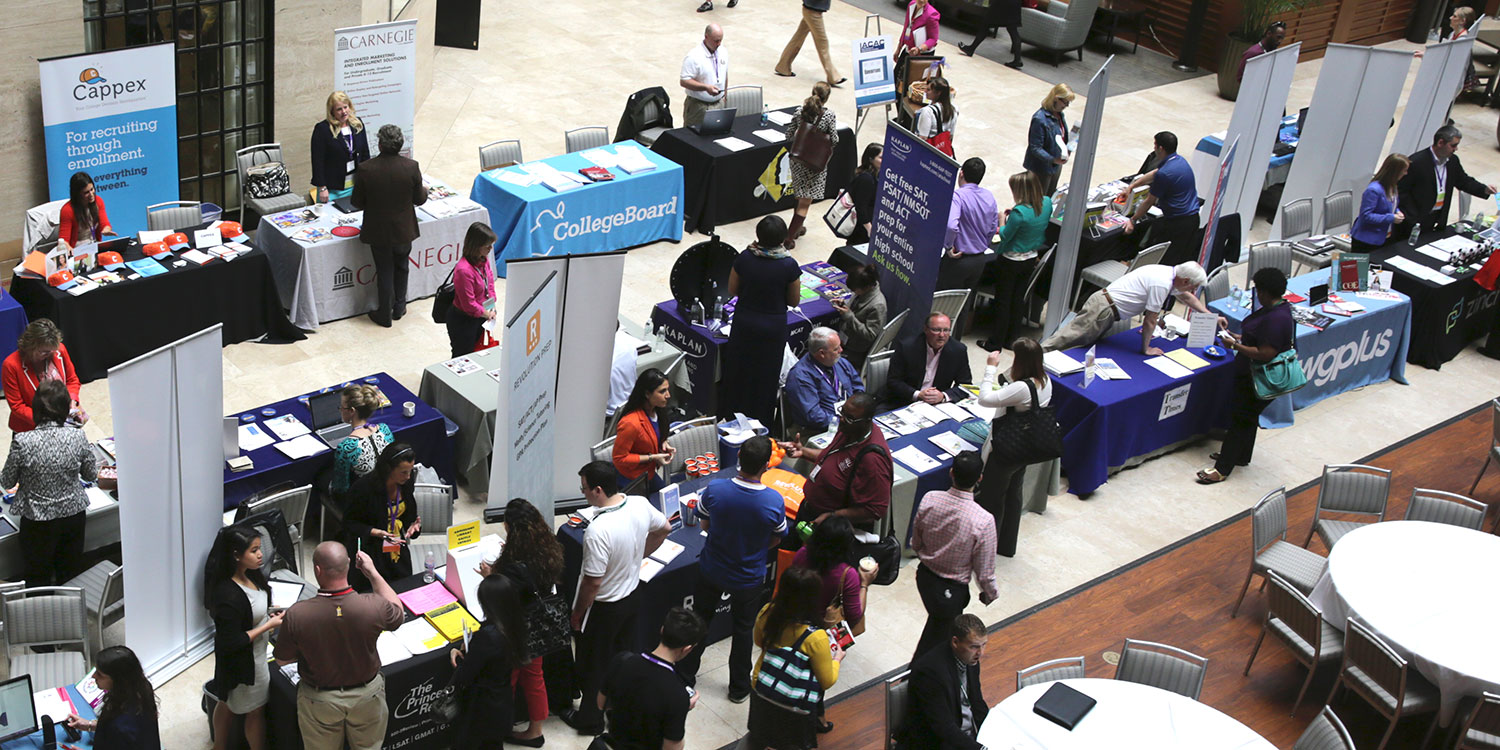 Partnerships with Exhibitors, Advertisers, and Sponsors at Conference
Mike Ford
Woodlands Academy of the Sacred Heart
Each year, nearly 1,000 college counselors and admission professionals from across the state and around the world gather to learn more about the wonderful, yet wild world of college admission. Maybe they'll collaborate on a presentation, reconnect with former colleagues, or just find ways to reinvigorate the passion for their work after a long school year.
The IACAC Annual Conference is also an excellent way to generate new ideas or find ways to become more efficient, ultimately leading to providing better service for our students and families. Perhaps the most important way to do this is by visiting the exhibitor row during the conference, which will take place April 22nd – 24th in Itasca.
Our advertisers, exhibitors, and sponsors help make the conference possible as well as enhance the experience for those in attendance. According to Steve Landgraf, Manager of Illinois Recruitment for Michigan State University: "The annual conference is so impactful and empowering for all of IACAC, so I think it's important for member institutions to support the event however they can. Sponsoring a session room at last year's conference in Bloomington/Normal was a great way to promote Michigan State University to school counselors and other participants. MSU is proud to once again sponsor a room at the 2020 IACAC Conference in Itasca!"
Potential sponsors of the conference still have the ability to provide attendees with the mobile app, a first-timers' luncheon, the internet, entertainment on both Wednesday and Thursday evening, as well as a few other options like advertising in the program or becoming an exhibitor. See all available options on the Conference website.
Brian Hodges, Senior Associate Director for The University of Illinois said: "The University of Illinois saw significant value with our sponsorship of high school counselors attending the 2019 IACAC Conference in Normal. It is important to show that we are a state-wide association and we provide opportunities for professional development for ALL of our members."
Regardless of which side of the desk you're on, the IACAC annual conference will be a great way to connect with colleagues from a variety of different settings and we hope you'll find valuable partnerships with those that make the conference possible!