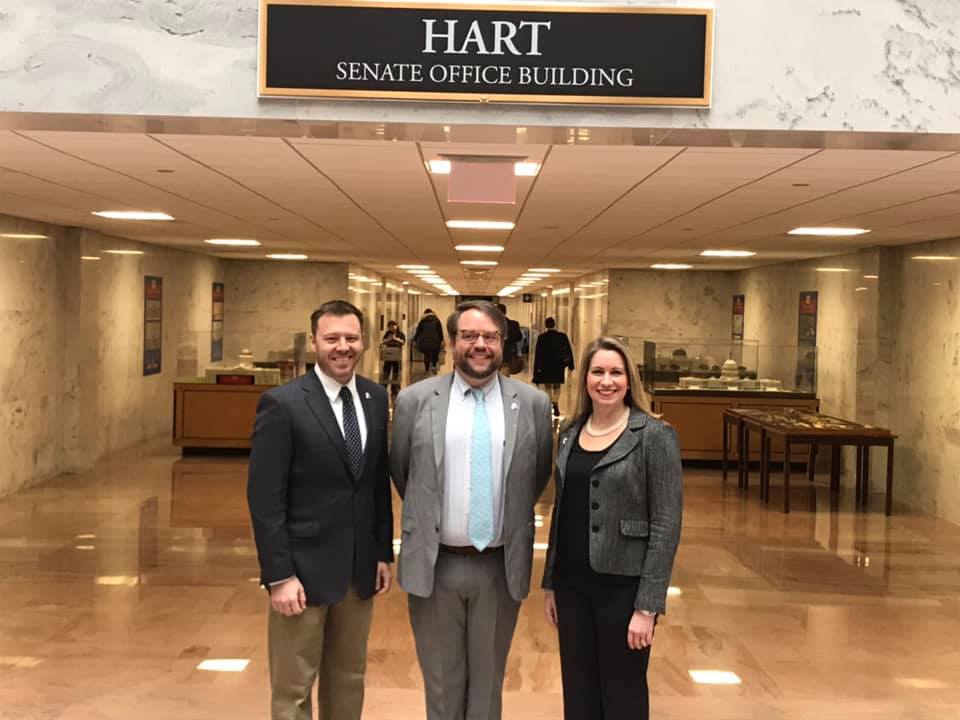 Emily Tabeek
Southern Illinois University Carbondale
Evan Wilson
Illinois College
Joe Freeman
Beacon Academy
The Government Relations Committee is excited to begin our annual "advocacy season," with two opportunities for direct engagement with our elected officials on the near horizon. Education policy is an important issue in both Springfield and Washington, and access to and success in postsecondary education has dominated many news cycles over the past year. As admission officers, school counselors, community-based advocates, and passionate educators, our members are in a strong position to take conversations beyond admission scandals and free speech issues. Through sharing our experience and telling our stories, we can give shape and color to the true barriers to postsecondary enrollment for Illinois students and families, informing policy discussions in a way that centers on the student experience in successfully completing a course of study after high school. We are excited to share our legislative agenda with you and strongly encourage you to join us in Springfield on Thursday, February 20th and in Washington, DC, on Sunday, March 8th and Monday, March 9th.
IACAC creates its policy priorities around six core initiatives approved by the National Association for College Admission Counseling. These initiatives include support for school counseling; access to a rigorous curriculum and adequate academic preparation; protection and expansion of need-based financial aid; protection of students from high pressure sales tactics and taxpayers from waste, fraud, and abuse; support of undocumented students in accessing affordable, high quality postsecondary programs; and promotion of student mobility, both for domestic students looking to study abroad and international students hoping to study in the United States. These priorities inform IACAC's advocacy for specific pieces of legislation, and we are excited to share this message with our elected officials.
As we prepare for Illinois Advocacy Day in Springfield, we are excited to work with legislators and the Governor's office on specific policy initiatives. We are interested in further expansion of the Monetary Assistance Program (MAP). We are grateful for Governor Pritzker's 50 million dollar expansion of the MAP Grant in 2019. Even so, we continue to see funding fall far short of need, and we estimate that MAP only reaches 43% of eligible students in Illinois. With the implementation of the RISE Act and the rollout of the FAFSA completion requirement for high school graduation, we anticipate increased demand for MAP grants in both this and future enrollment cycles. For this reason, we are asking for at least an additional 50 million dollars for MAP appropriations. We also plan to engage in conversations with our elected officials about bringing greater stability to the Monetary Assistance Program.
The passage of HB 2719, requiring completion of a FAFSA for graduation (or a documented waiver of the FAFSA requirement), will widen the pipeline of Illinois students pursuing postsecondary opportunities. It will also place a significant burden on our school counselors, who will be responsible for complying with the FAFSA mandate. We will ask our legislators to consider the establishment and implementation of a statewide block grant to be administered by the Illinois State Board of Education (ISBE). School districts with student-to-counselor ratios that exceed 500:1–twice the 250:1 student-to-counselor ratio recommended by the American School Counselor Association (ASCA), would be eligible to receive a grant from the state to hire additional school counselors. In this way, we hope to address Illinois' statewide ratio of 686:1 (based on a 2019 American Counseling Association estimate).
Ensuring that students have access to school counselors is an important step in meeting our state's new FAFSA mandate. Just as important is ensuring that those counselors are well trained in providing support and assistance for postsecondary study. In 2017, Michigan passed the nation's first requirement that school counselors engage in professional development for college and career advising as part of their licensure recertification. This year, we plan to advance similar legislation in Illinois, asking that 40 of the 120 required hours for licensure recertification is dedicated to postsecondary counseling, financial aid counseling, and career and technical education. With the excellent work of IACAC's High School Counselor Professional Development Committee and the implementation of the Zoom platform and other webinar functionality, our organization is excited to provide this professional growth for school counselors.
Nationally, IACAC looks forward to joining with NACAC for our National Advocacy Day on Monday, March 9th. While the agenda for this day continues to be finalized, we anticipate discussing various bills surrounding reauthorization of the Higher Education Act. NACAC was a key partner with Representative Bobby Scott (D-VA), chair of the House Education Committee, as the committee drafted and marked up a proposed HEA Reauthorization. While this process will become more complicated in the US Senate, we are excited to work with Senator Richard Durbin (D-IL) and Senator Tammy Duckworth (D-IL) as they work on reconciling House and Senate versions of these bills. Senator Durbin in particular continues to be a fierce advocate for our policy priorities, sponsoring legislation to support DACA recipients and undocumented students and leading the Senate version of a House resolution to express disapproval about the revised Borrower Defense to Repayment rules put forth by the Secretary of Education. IACAC plans to meet with Illinois' Congressional delegation in March to advocate for our policy positions and to thank them for their hard work on behalf of Illinois students and families.
We cannot do our work in Springfield and Washington, DC, without our members, and we implore counselors and admission officers from all sides of the desk to engage with their elected officials. Registration is still open for both Illinois Advocacy Day in Springfield on February 20th, and National Advocacy Day in Washington, DC, on March 9th. Grant money to support member participation is also available. Even if you cannot join us for these events, our committee is always willing to partner with you if you are interested in meeting with your elected officials in your home district. We can provide training, materials, and even accompaniment for any IACAC member who wishes to advocate for our policy positions. We hope that you will join us in these conversations on behalf of the students and families that we serve. You can always reach out to gr@iacac.org with any questions you may have.