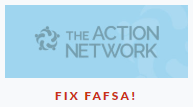 Traci Flowers
Deerfield High School
I wanted to make sure our members are aware of the following campaign and how they can get involved. There is currently a "FIX FAFSA LETTER WRITING CAMPAIGN" sponsored by ACCEPT.
The FAFSA Act, (supported by NASFAA) a bipartisan bill that has already passed the Senate but has yet to be taken up by the House of Representatives, reduces the number of questions from 108 to around 24 and makes the verification process less burdensome. As one colleague, Amber Barker Stephens, put it so powerfully, "The harder a student's life, the harder the FAFSA." This bill makes that less true.
The IACAC annual conference this year focused on making an IMPACT, to develop our advocacy skills and to take action. Please consider taking *less than two minutes* to get a letter sent off to your congressperson. The letter is already written. You can edit it if you like. Personal stories are welcome, but keep it short.
Thanks to Amber for the nudge, and thanks to ACCEPT for putting its imprimatur on this campaign. There is a link on the site that lets you share the campaign in social media. Please do so.