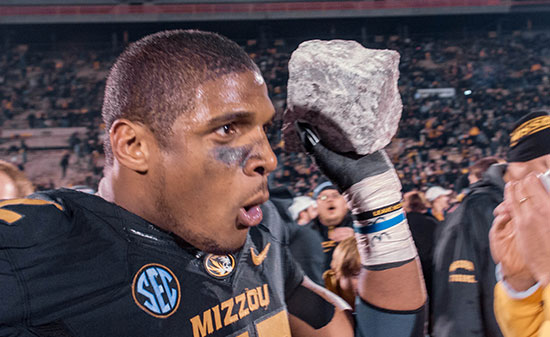 Finding Your Team, No Matter What Team You Play For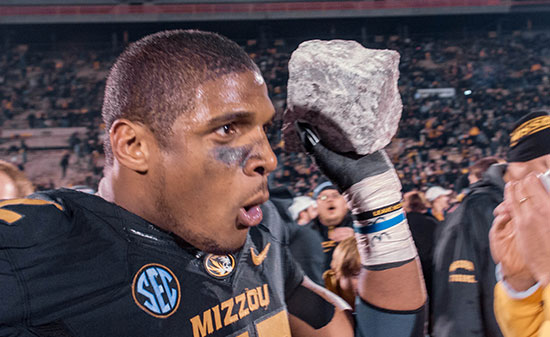 By Zak George, DePaul University 
For those of you that know me, you know I'm not really an "avid sports fan." In fact, I know very little about sports. To me, the Super Bowl was actually a Bruno Mars concert and a Cubs game is really an excuse to sit outside and get a tan. The closest I've been to a football game was the Gator Bowl, during which I played the half-time show with my marching band (we nailed it!). I've recruited my fair share of 6'5″ basketball players and 250 lb. wide receivers, but ask me what those positions actually do and I'll give you a blank stare. So, as you can imagine, it came as a surprise to many of my friends and family when I started talking about college football this month. I started talking about professional basketball two weeks ago, swimming about two months ago, and MLS (Soccer) about a year ago. I even impressed my dad with words like "defensive end," "NFL draft," and names like Michael Sam, Jason Collins, Tom Daley, Robbie Rogers.
Michael Sam has become a household name. This recent University of Missouri graduate came out as a gay man publicly in January, to mixed reactions. Some claim that "an openly gay player…[will] face long odds and a lonely path." Others claim that the NFL is ready for an openly gay athlete, provided there is a "strong owner, savvy general manager and veteran coach to make drafting Sam work."
On one hand, I know absolutely nothing about the journey upon which Michael Sam is about to embark. On the other hand, we've all done it: gay, straight, bisexual, transgendered, queer. Each and every one of us have had to take our identity and find a place (college) that supports us, challenges us, teaches us, and allows us to support, challenge, and teach it right back. No matter which side of the desk we sit on, it's a journey that we assist with every day. Michael Sam was fortunate to find the right community at Mizzou and he is now in search of his home for the next stage of his life. He's fortunate that some NFL teams have come forward in support of his orientation and he will navigate his options based on what's best for his athletic and personal journey. We all have searched for that supportive community, looking for the best fit for our academic and personal journey. Collins, Daley, Rogers, and every other athlete, has had to navigate this journey, regardless of his or her sexual orientation.
The star football player in your high school is about to embark on this journey. As is the first-chair violin player. As is the quiet engineering student. Whether they are out and proud, silently in the closet, straight, or otherwise, we need to assist with their journey to ensure that they find a community that will embrace them for who they are—and perhaps more importantly, who they will become.
Senior year, I was straight. Well, "straight." I was doing my college search as a straight, white, middle-class male. In the end, I found a community that embraced me, and I found it because when I visited campuses, there was a secret signal that I was looking for. For some, that signal might be a "safe zone" placard. It might be an orchestra that gives you the chills upon first listen. It might be a Rube Goldberg competition to which you can totally geek out. I was looking to make sure there might be others like me on each campus, but not the "right then" me, rather the "me that I was going to become." 
Our job is to look deeper with each student and ensure that they, like Michael Sam, will find a home that embraces them. Our job is to provide resources for each student to ensure that they have the best understanding of what our community has to offer before they embark upon their college journey.
A few months ago, the Inclusion, Access and Success Committee (IAS) submitted a call for documents that IACAC members provide for LGBTQ students regarding their college search. Our committee is currently working to provide an easily accessible location for this information. We know that this journey may be unfamiliar to you, as it is for the parents and students with whom you work, and so we're here to help! One immediate resource to highlight is a Google+ Hangout on March 26, 7:00 pm CDT, entitled "Finding a LGBT-Friendly Campus & College Prep Resources," brought to you by Campus Pride. More information will soon be posted on the IACAC Listserve closer to the event, but I would encourage you to put that date on your calendar right now. Additionally, be on the lookout in the next few months for the compilation of our resources for use in your toolkit.
Of course, I will close with a quote from a musical. Grease reminds us that "if you can't be an athlete, be an athletic supporter." No matter the student that you are working with, support them on their journey to find their best fit community. Whether they are gay, straight, bisexual, transgendered, queer, or something else altogether, our students are all looking for their NFL teams, and the final round of the draft is nearing. We must be the athletic supporter, even if we know very little about their sport. Let's all equip them with what they need to "hit a home run" (that's football, right?).
Image by Marcus Qwertyus under Creative Commons license.