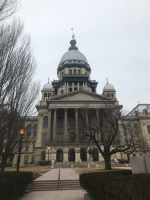 Government Relations Committee
IACAC and the Illinois School Counselor Association(ISCA) partnered in February to provide a virtual advocacy experience. Over 50 members from both organizations reached out to Illinois legislators to advocate for joint priorities like funding to reduce school counselor ratios and funding for the Illinois Monetary Award Program (MAP grant). Although we weren't able to meet in Springfield, members conducted email writing campaigns and held phone calls with their elected officials.
We truly appreciate the partnership with ISCA and look for ways to deepen our coordinated advocacy efforts. Many thanks to IACAC members who have participated in advocacy and in the planning work.
Still want to include your voice? Send us an email at GR@iacac.org and we'll show how easy it is to make an impact.