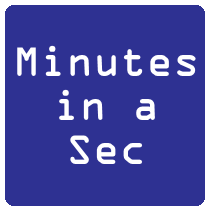 Minutes in a Sec – September 2020
The "Minutes in a Sec" memo, a compilation of motions passed and highlights from our recent Executive Board meetings, is an effort to keep our membership more informed. As always, our Meeting Minutes are available at Meeting Minutes & Reports for your review after they are approved at the next Executive Board Meeting. Please enjoy these highlights.
IACAC Executive Board Meeting
HIGHLIGHTS and MOTIONS
Friday, September 11, 2020
Meeting conducted via Zoom
HIGHLIGHTS
Treasurer:

The finance committee continues to complete a thorough review of the fiscal policy.
Bank Transition – Still in process. We will have 1 Checking Account and 1 Money Market Account that will be used as a 2nd Checking Account.
Reserves – 3 year average, still calculating.
Reimbursements – should be quicker now going forward.

Chief Delegate:

Update on the Virtual Assembly – NACAC will simulate the Town Halls and getting to know the candidates.
Candidates – 2 candidates for President Elect. 3 NACAC Board Members need to be elected.
The Ethical guideline to replace the CEPP- make a decision on this. Needs 2/3 to pass.
They will have a virtual voting process.

President elect:

Process of building a survey from membership on where we are and looking forward for conference 2021.
Looking at what other ACAC affiliates are doing for their conferences.
Conference committees are working already to plan.
Budget will be discussed at the November Board Meeting.
Logo revealed – Look for the Good!

Past President:

Amy will be reaching out to members for the Credentials committee this week and next. She will reach out to members for the Nominations committee later this month.
In October, a call will go out to all members to seek nominations for the following positions to be voted upon at the Spring 2020 Membership Meeting:

President-elect (Postsecondary)
Treasurer
Delegate Director (Secondary)
Delegate Director (Postsecondary)
Council Team Director (Secondary)
Council Team Director (Postsecondary)
We will need to elect one person for each role.

President:

ICF fairs cancelled; Strive Scan program-translation update and budget change going forward, challenge to everyone to sign up for one facilitation slot, please make sure to advertise to your students. We still need 20 more facilitators. Will have the programming translated to Spanish as well, this needs to be budgeted every year.
NACAC conference and IACAC meeting during that time period (9/24, 9-9:45 am)
NACAC conference grants -Picked and awarded the 9 NACAC Conference grants.
MOTIONS
P. Welsh motioned that the Finance Committee enter into a contract to work with the most appropriate law firm as selected by the finance committee; E. Updegraff seconded. Discussion. Motion Carried.
B. Hodges motioned to increase the fall transfer scholarship awards from one- $1,000 scholarship and one- $500 scholarship to a total of five- $1,000 scholarships and to increase the spring transfer scholarship from one- $1,000 scholarship to a total of two-$1,000 scholarships; A. Braden seconded. Discussion. Motion Carried.
Please see the complete version of the IACAC Exec Board September 2020 Meeting Minutes available on the IACAC Website.