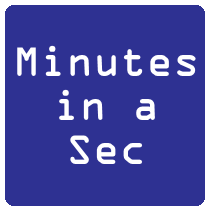 Minutes in a Sec – June 2021
The "Minutes in a Sec" memo, a compilation of motions passed and highlights from our recent Executive Board meetings, is an effort to keep our membership more informed. As always, our Meeting Minutes are available at Meeting Minutes & Reports for your review after they are approved at the next Executive Board Meeting. Please enjoy these highlights.
IACAC Executive Board Meeting
HIGHLIGHTS and MOTIONS
June 14, 2021
Meeting conducted via Zoom
HIGHLIGHTS
Treasurer's Report:
End of Fiscal Year Report

Introduction of Transparent Snapshot

Year To Date Report

Waiting on a few more things to close

Donated Services
Changes in Roles

Treasurer-Elect – Josie Blasdel – McKendree University – Approving Reimbursements
Treasurer – Me – Sending the Checks and updating budgets
Past Treasurer – Erin Updegraff – DePaul University – Reconciling Bank Statements

Conflict of Interest Statement
Fiscal Policy Sign-Off

https://members.iacac.org/global_engine/download.aspx?fileid=66EA9E89-84E1-4284-BEB6-1D4ACAF2EFD6&ext=pdf
Need to work with Erin Hoover to update the new Fiscal Policy but will have that to you by LDI

Budgets
As I did last year, with each committee chair I would love to go over your individual committee budget, work with you to make it as detailed as possible so that you can plan appropriately how your funds are used and viewed. I have a meeting link for whenever you would like to speak to me to ask questions, bring up concerns, etc. https://calendly.com/eric-usf/treasurer.
President-Elect Report:
Discussed In-person IACAC Conference at the Westin April 27-29, 2022
Past-President Report:
Discussed movement within the Board with Brian Hodges in year 2 of 3 as Delegate.
Angie Cooksy will stay on 1 more year as a Delegate.
Will Barefield is no longer in Higher Ed. So, his role will transition to Sylvia Hernandez for 1 year and then she will be Single Slated for that role.
Mike Ford will no longer be in Higher Ed. Eric Ruiz will stay on 1 more year in the role of Treasurer.
Past President will serve as chair for the Nominating committee and Bylaw committee.
President Report:
Discussed NACAC schedule for Seattle in September.
Wednesday, September 22, 2021, is the official IACAC Board Meeting 3-7pm.
Thursday, September 23, 2021, is the Affiliate Meeting from 5-7pm.
Saturday, September 25, 2021, is the NACAC Membership Meeting.

IEC Conversation

Discussion on Independent Counselors and IACAC.
IEC Conference coming up. They feel like welcome partners with IACAC and would like to collaborate more.
Conference Recap:
Registrations-269 College side, 207 High School side
Evaluations- 99 Responded with 23% being first-timers
Please see the complete version of the IACAC Exec Board June 2021 Meeting Minutes available on the IACAC Website.