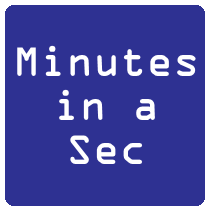 Minutes in a Sec – September 2021
The "Minutes in a Sec" memo, a compilation of motions passed and highlights from our recent Executive Board meetings, is an effort to keep our membership more informed. As always, our Meeting Minutes are available at Meeting Minutes & Reports for your review after they are approved at the next Executive Board Meeting. Please enjoy these highlights.
IACAC Executive Board Meeting
HIGHLIGHTS and MOTIONS
September 22, 2021
Meeting held in Seattle, WA
HIGHLIGHTS
Treasurer:
Innovation committee open for members to join and the grants committee
Request for surplus funds will be decided by the committee
Reimbursement request- receipts need to be itemized, 1 alcoholic beverage per meal is approved
President-Elect:
In-person conference- can pivot if we need to?
Theme- Be the Change You Want to See! What can you do to make a change!
This will be Donna's last year working on conference
Past President:
Elected APC (Affiliate President Council) Coordinator for NACAC- Congrats!
In charge of Nominations and Bylaws
Meetings today to talk about NACAC partnership- No understanding yet what positions there will be? Still does not know of there will be Delegates
NACAC is still gathering info- they had 12% of membership who actually voted
President:
Leadership Development and how we are taking care of our own
Re-imagining the NACAC/Affiliate partnership
Worked with McKinley Advisors. 10 committee members (200 interested)
Please see the complete version of the IACAC Exec Board September 2021 Meeting Minutes available on the IACAC Website.