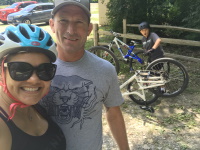 Member Spotlight: February 2021
This month's Member Spotlight features Franciene Sabens, School Counselor at Elverado High School.
How long have you worked in counseling?
13 years
How did you get into counseling?
Counseling is my second career, prior to this I was a litigation paralegal. As a paralegal I did all of the intake interviews and enjoyed the opportunity to listen to clients tell their story's and get those emotions out; in the legal world there isn't a lot of time for this. I knew that wasn't the right career for me after a few years so I switched gears and worked as a high school registrar for a few years; that's where I discovered School Counseling—the perfect blend of counseling, planning, and record keeping for me.
How long have you been an IACAC member?
I joined this year in August.
How have you been involved in IACAC?
In 2019, I presented at the conference in Normal and had a blast! Now that I am officially a member I am looking forward to learning more about the organization, getting involved and encouraging more of my school counseling colleagues to join.

What do you love most about your job?
Everything about the job is really my favorite! I love helping a student discover who they really are, make plans for the future, navigate obstacles and succeed on their own terms.
What is the most common college process concern you see among your students today?
When it comes to the college process my students are most concerned with how their test scores will affect their admission. Many of my students are not great test takers, but they are dedicated students.