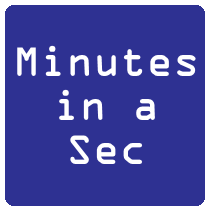 Minutes in a Sec – November 2020
The "Minutes in a Sec" memo, a compilation of motions passed and highlights from our recent Executive Board meetings, is an effort to keep our membership more informed. As always, our Meeting Minutes are available at Meeting Minutes & Reports for your review after they are approved at the next Executive Board Meeting. Please enjoy these highlights.
IACAC Executive Board Meeting
HIGHLIGHTS and MOTIONS
Friday, November 6, 2020
Meeting conducted via Zoom
HIGHLIGHTS
Treasurer:

Continue to review budget and expenses.
Money still needs to go out even if not have anything. Not as much income coming in.
Fiscal policy states: Reserve fund is no less than a 3-year average of the annual operating expenses of the association.
Budget requests due by December 11, 2020. Finance committee will review December 14, 2020.

Past President:

The nominating committee will be charged with slating an appropriate number of candidates for the following positions:

President-Elect (PS)
Treasurer (HS or PS)
Delegate Director (HS)
Delegate Director (PS)
Council Team Director (HS)
Council Team Director (PS)

The Call for Nominations will go out ASAP.

President-elect:

Conference 2021 will be virtual.

President:

NACAC spring plans – All spring 2020 fairs will be virtual.
Received great feedback on fall programming.
IACAC spring plans – College fair team working on spring plans.
Committee work/planning virtual events/programming- We have Zoom capability for 300 meetings and 500 webinars. Please think of different kinds of programming, use our technology.
Strategic plan – How can we best support the membership and provide benefits to members.
MOTIONS
P. Welsh motioned that IACAC approve the new membership model as presented by the Ad-hoc Membership Model Revamp committee report; O. Solomon seconded.
Discussion. Motion Carried.
O. Solomon motioned that we as board approve contacting LUC directly, in a letter comprised of feedback and comments from all board members, and further communication to the membership; A. Braden seconded. Discussion. Motion Carried.
S. Williams motioned that IACAC is to establish an Ad Hoc committee to build on the LEAD proposal; B. Hodges seconded. Discussion. Motion Carried.
Please see the complete version of the IACAC Exec Board November 2020 Meeting Minutes available on the IACAC Website.