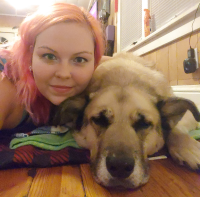 Member Spotlight: August 2020
This month's Member Spotlight features Emily Wagner, ISACorps Coordinator for the Illinois Student Assistance Commission.
How long have you worked in counseling?
4 years
How did you get into counseling?
I have always wanted to help people with something, but what exactly that was seemed to change from year to year. When I graduated with a psychology degree I did not quite know what to do. I went to a job fair at SIUC and the southern ISACorps Coordinator at the time, Ekaterina, stopped me and asked if I was a world changer. It was the perfect introduction to get me hooked. I never thought I wanted to work in higher education, but this opportunity sounded too good to pass up. I love my job and know I made the right choice out of college!
How long have you been an IACAC member?
4 years
How have you been involved in IACAC?
I went to the IACAC conference the first year I worked for ISAC and absolutely loved it. I have attended every year since and met some really amazing people! This year would have been the fourth conference I would have attended.
What do you love most about your job?
I love going to different schools and meeting new students. I have the privilege of getting to know what people's goals are for as a career. So many of the students I have worked with have such big dreams and it brings me great joy to help them figure out what steps they need to get there. I love being someone who helps take them from being afraid to say what they want to do out loud to having concrete steps on how to get where they are going. It takes great bravery to tell a stranger your specific dream, especially if it is kind of out of the norm. I do my best to reward that bravery by taking what they say very seriously and show them that they are possible.
What is the most common college process concern you see among your students today?
I am usually called to help with financial aid. I tell people that I am available to help with anything related to the college-going process, but I am most definitely known as the FAFSA lady in many schools. Many of the students I work with need to see that there is a lot of aid out there before they actually decide that they are going to college. The FAFSA can be complicated and intimidating and I have run into all kinds of crazy situations.