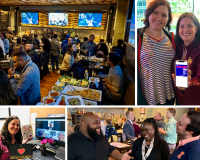 The Business of Making the World a Better Place
Courtney Klinedinst
University of Tennessee Knoxville
We work in the business of making futures. Yep! We work to provide opportunities to students to reach their fullest potential; to find their strengths and passions, improve their skill sets, and take what they learn and impact their lives, their families lives, and their communities. We are in the business of making the world a better place by producing students who understand and appreciate diversity and are more inclusive than we've ever experienced!
In these times, I find it imperative to find a mentor! Mentors motivate. Mentors add perspective. Mentors brainstorm. Mentors inspire! Our work is no easy feat, never ending emails, repetitive meetings, money that doesn't exist, upset parents, Zoom fatigue…but the work we do means something! So find that mentor who can remind you to keep trudging on when work gets exhausting. Find that mentor who empowers you to advocate for yourself so you can advocate for others. Shout out to those I admire as mentors: Andy Borst, Jamie Staggs, Lisa Winker, and my original IACAC mentor, Zak George!
Whether it be a lunch, a #MentorshipMeetUp, a phone call, a text…I appreciate the insight I have gained by having mentors. My journey started as a School Counselor with a caseload of ahem… over 1,000, then onto higher ed. Along this 10 year journey, my mentors have helped me find job opportunities, improve my recruiting skills, fine tune my resume, negotiate offers, and network. I am where I am today because I had mentors inspire and motivate me along the way! So today, I encourage you to participate in IACAC's mentorship program, either as a mentor or a mentee! Build your network, get inspired, make a connection! I assure you, with an open perspective, you will gain something very valuable. A friendship, a reference, a job opportunity, an idea…and you can go forth and change the world for the better!