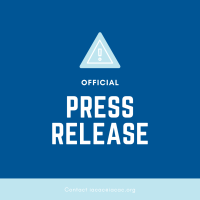 Another Unforeseen Roadblock for Seniors During COVID-19
Emily Tabeek
Southern Illinois University
It has been quite the year for all of us in high school counseling and college admissions. Our students are battling circumstances no one has battled before, including the lack of homecoming, prom, sports, and all around socialization, which we know is vitally important to a student's all around experience! Students also have to deal with virtual learning, concerns about access to college visits, and the ability to take AP and ACT/SAT tests. Colleges and universities across the nation have taken swift action to make sure taking a standardized test does not impede a student's ability to college access.
Though it is amazing that so many colleges and universities have gone test-optional or test-blind (great work everyone!), that does not fully solve the problem for Illinois graduating seniors since the SAT is a diploma requirement for graduating. Yes, I know that seems weird. And yes, I know that requirement should not matter since we are in a PANDEMIC. Also yes, the Government Relations Committee (GR) submitted a letter to State Superintendent, Dr. Carmen Ayala, asking for the mandate to be dropped for a year until, you know, we are no longer in a PANDEMIC.
I have included below some of the language that we used in the accompanying press release. Before I do that, though, I think it is important to point out a couple items that make this situation more complicated.
The SAT diploma requirement. Though mandated by the state of Illinois, it meets the US Dept. of Education's final accountability assessment requirement. The federal government requires that states test their high school students to assess student performance. In the state of Illinois, the standardized test required used to be the Prairie State Achievement Examination. At the time, IACAC and GR supported and endorsed the state's decision to move from the PSAE to the ACT or SAT because it contributes to the college entrance process. This is why our request at this time is only a one year waiver for the diploma requirement.
Money. That is the other kicker. School districts' state and federal funding can be affected (even more than it already is) if a high school does not offer the SAT, despite being in the middle of COVID. I will let you take that down whatever rabbit hole you see fit.
If you have worked in higher education for longer than a year, you might be aware at this point how things are often always more complicated than they seem. The red tape runs rampant in our field, but we must not let that weaken our passion to serve students and to fight for what is right. And that is what we are committed to doing here, especially on the Government Relations Committee. We welcome your thoughts, strengths and voice alongside us in this unprecedented year.
The Illinois State Board of Education (ISBE) should extend a one-year waiver of the high school diploma requirement that requires the class of 2021 take the SAT, according to the Illinois Association of College Admission Counseling (IACAC).
"We greatly respect the work of ISBE's Transition Advisory Workgroup to create a return to school plan that protects our communities," says IACAC President Megan O'Rourke. "Waiving the SAT as a graduation requirement for the class of 2021 is consistent with the safety goals in the plan and we strongly encourage ISBE to reconsider this decision."
ISBE guidance dated July 31, 2020 requires Illinois public schools to host the SAT on either September 23 or October 14, but also cancels other tests in the SAT suite of assessments for the fall cycle. The SAT was originally slated to be taken in April, but was postponed because of the move to remote learning due to the outbreak of COVID-19. Work conducted by ISBE to offer guidance to Illinois school districts has allowed them numerous ways of delivering education to Illinois K-12 students both online and face-to-face.
"Public school districts around the State of Illinois have been allowed to make decisions related to the COVID-19 pandemic based on what makes sense for them. Mandating an in-person exam at a time when many districts have opted for remote learning unnecessarily places students, faculty, and communities at risk," O'Rourke says.
Rest assured, the Government Relations Committee is watching this closely and will continue to urge those in power to do what is best for our students.