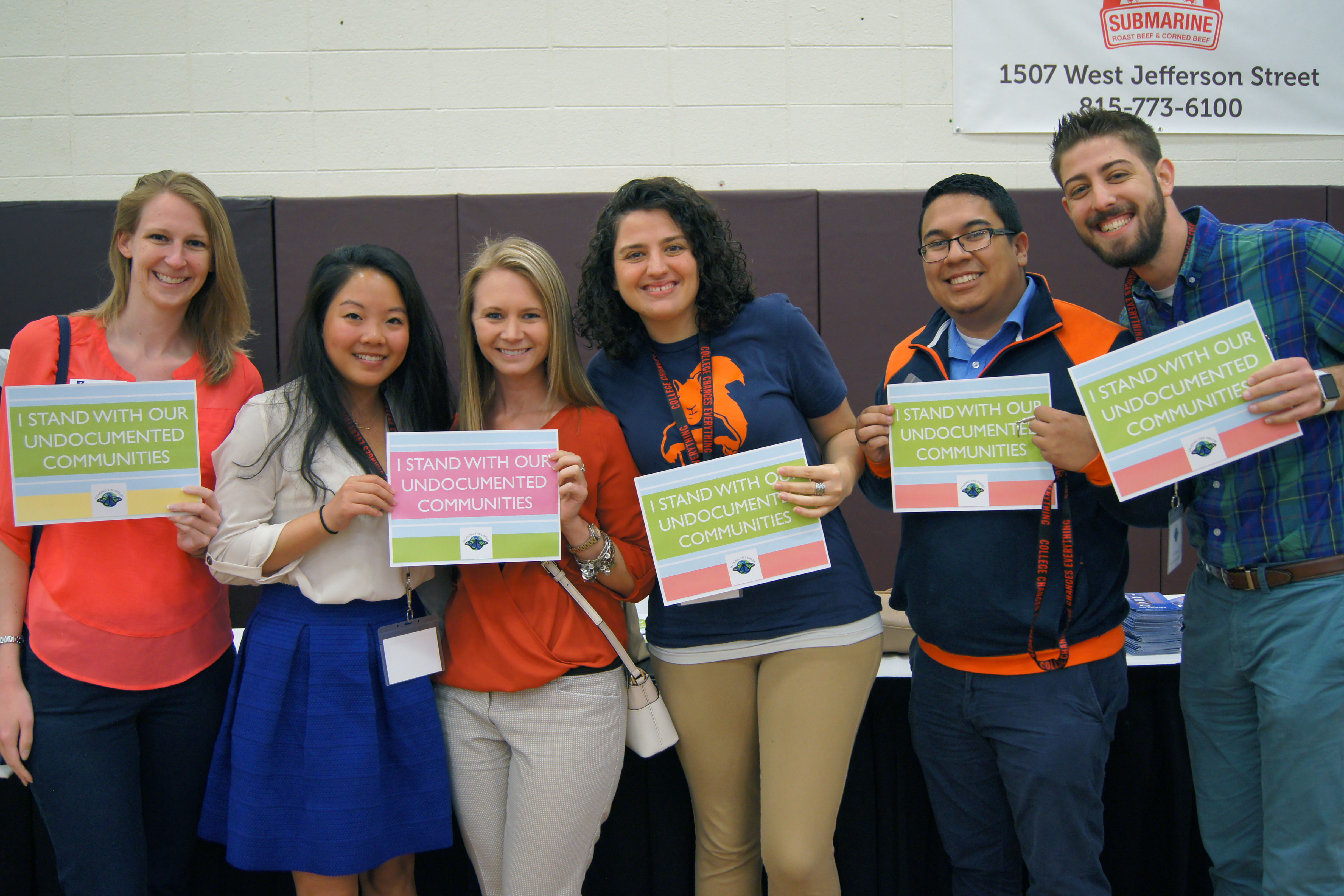 Sharing the Dream in a Time of Need
Mayra Lagunas, University of Illinois Urbana-Champaign
The current political environment in the United States has created a hostile and unwelcoming environment for undocumented students. In response to the situation, it is with great joy that the Inclusion, Access, and Success (IAS) and Sharing the Dream Conference (STDC) committee members ask you to save the date for the fourth annual conference on May 23, 2018. We will be highlighting the inspiring work that professionals in our field have done and the work that remains in order to support undocumented students and families.
On Wednesday, May 17, 2017, the University of St. Francis opened its doors once again to host the third annual Sharing the Dream Conference. In attendance were approximately 300 participants, ranging from university and high school administrators, high school and university faculty, admissions and student affairs professionals, and community members from across Illinois and neighboring states. As has become the custom, one of the founding members of STDC, Eric Ruiz, welcomed attendees to the conference. Following the welcome, Dr. Arvid Johnson, President of University of St. Francis, delivered compelling remarks on the responsibility we owe each other, and those most vulnerable in our society, to be better and do better. Dr. Aliza Gilbert of Highland Park High School, a well-known undocumented student ally and access advocate, spoke about her experiences in the field. The crowd was energized, engaged and hopeful.
Amid the uncertainty of policies surrounding the future of immigration in this country, the conference served as an indication of the fervency with which we commit to our students. The conference offered multiple workshops tracks based on the attendees' level of comfort and proficiency in the topics which were facilitated by experienced professionals in the field.The topics ranged from creating undocumented student clubs to mental health support. They included immigration attorneys, academic scholars, directors of career services, and founders of scholarship programs.
As listed in IACAC's Strategic Plan 2015-2018, we seek to embrace and celebrate the diversity of our organization, the students we serve, and the communities we strive to educate. With this mission at the forefront of our pursuits, we are excited to be able to offer the benefits of this conference annually.
If you are interested in assisting with the planning of this year's conference, please contact Sara Espinosa. We would love to have you join us!
If your institution is interested in hosting the conference in the future, please review the request for proposals.
For more information on resources in support of undocumented students, please visit our STDC website and the IACAC College Advising Guide for Undocumented Students.
We thank IACAC for their continued support of the Sharing The Dream Conference. As undocumented students seek post-secondary opportunities, it is critical that educators understand the impact they have to help students pursue their dreams.