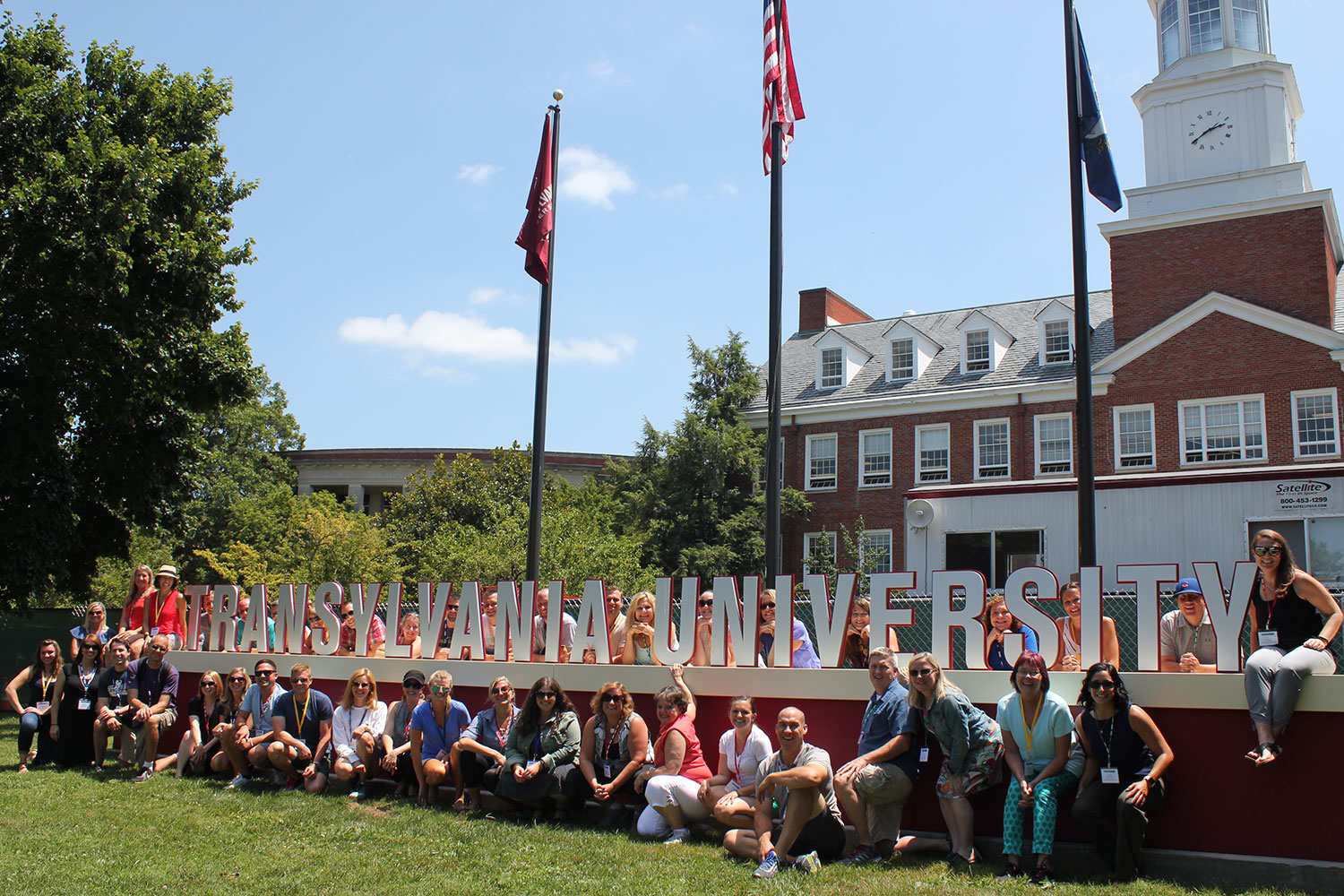 Summer Bussing, Had Me a Blast
Barry Goldman, Grayslake Central High School
Okay, maybe Danny Zuko and Sandy Dee weren't on the Bus O'Fun, but with Nate Bargar and Scott Lilly along for the ride, we were certainly entertained!  I have attended three Illinois Association for College Admission summer tours, and each have been highlights of my career.  If there is to be one take-away from this reflection, I hope to communicate thanks and gratitude.
My excitement for the trip increased in December of 2016 after receiving the list of schools on our agenda.  As I talked with peers, I kept hearing from colleagues that intended to travel.  It became more and more clear that our week together wasn't merely professional development, but a reunion of friends.  On Sunday, July 23rd, I arose with the joyful anticipation of little Ralphie Parker, racing down the stairs to see if a Red Ryder BB Gun was left under the Christmas tree.  We were expected to arrive at The College of DuPage by 6:00 AM.  I pulled into the parking lot around 5:15, ready to roll.
Before detailing all the unique experiences my colleagues and I had on the tour, I believe it is imperative to recognize the sacrifice that goes into allowing The Bus O'Fun to happen.  Of course, we start with Kato Gupta and Dan Miller, our fearless leaders. Despite the hectic nature of serving as a department chair and college counselor respectively, they diligently planned our itinerary.  Along with their superb committee (Kara Dollaske, Scott Lilly, Eric Melton, and Natalie Rubino), Kato and Dan ensured we were well-prepared, well-informed, well-fed, and most importantly, well-caffeinated.
For all participants, a week on the road meant time away from family and friends.  As the parent of two young children, I appreciate my wife's understanding of the value of our college visits and I'm grateful for the power of FaceTime to connect me with those smiling faces back home.  All of our current and future students benefit from the knowledge we obtained and share about twelve amazing schools.
To the admission staff at every stop along the way, thank you for your warmth and hospitality. We learned about your programs in great depth while also reconnecting and making friends.  The memories of channeling my inner Jimmy Chitwood while in Hinkle Fieldhouse at Butler University, listening to a member of the prestigious Jubilee Singers at Fisk University, or hearing U of I's Lovie Smith fondly recall his school counselor will live on.  Standing in Rose-Hulman's Ventures building, we witnessed medical innovations that are literally changing the world.  And let's not forget that incredible dining center at Belmont University that compares favorably to many of the finest Las Vegas buffets.
With the Micro Tour and Plane O'Fun scheduled for 2018, I encourage IACAC members to register.  We will scour the country to find the perfect student tour guide-celebrity doppelganger match.  If the words above aren't enough to convince you, the annual celebration of Lake Zurich's finest, Carl Krause's "birthday" is as much a part of summer as baseball, backyard BBQs and fireworks lighting up the sky.