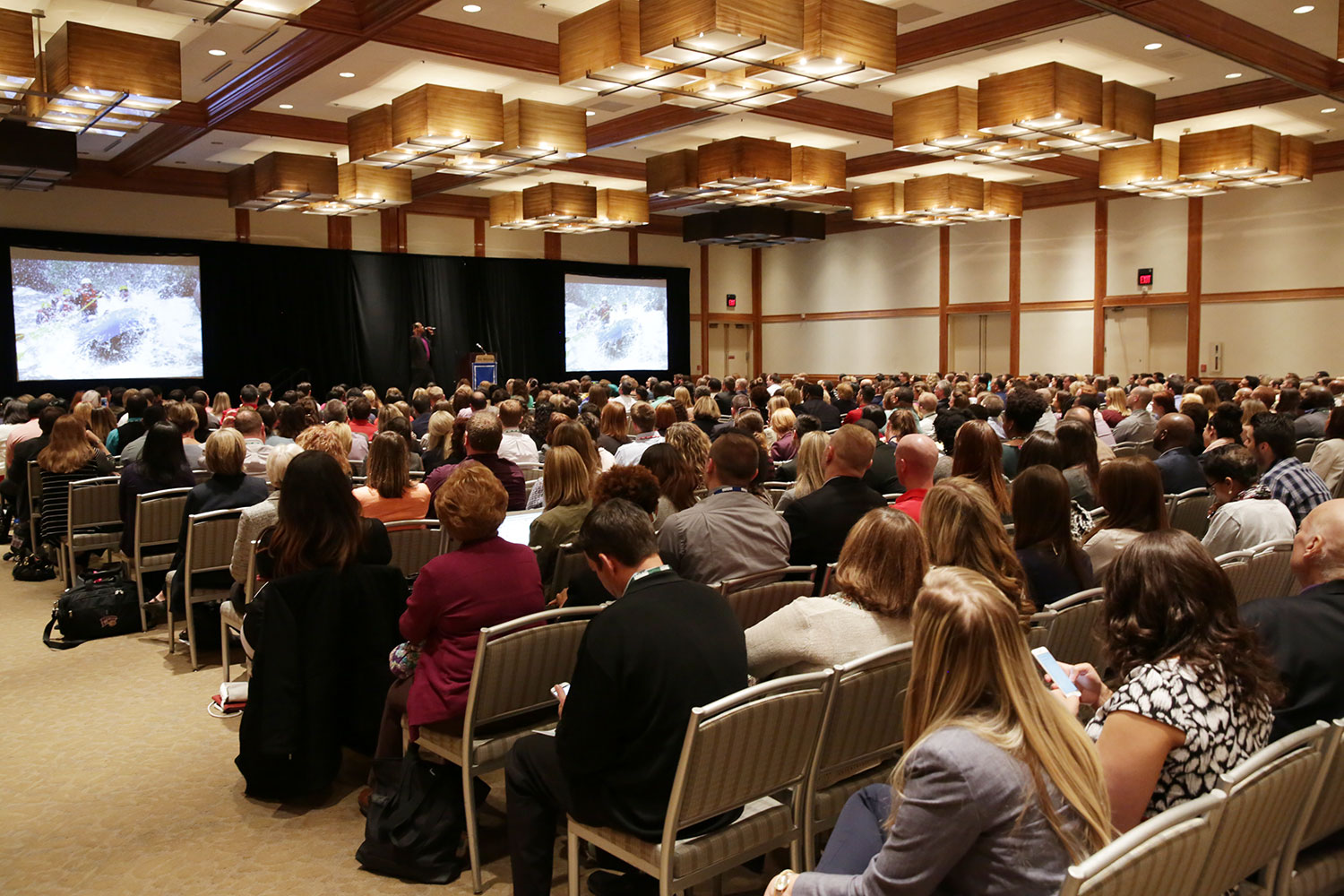 Navigating the IACAC Annual Conference
By Kim Wiley
Deerfield High School
Here is something to get excited about! It is almost time to attend the biggest event of the year for IACAC, the annual conference. This year's conference starts on Wednesday, April 26 and ends on Friday, April 28. If this is your first time attending conference and it seems overwhelming to think about how to navigate these three days, I wanted to share a few tips about how to make the most of your experience.
Sessions
Don't wait until conference starts to choose which sessions you are interested in attending. You can look at a list of all of the sessions that are offered right now on the conference website and get a detailed look at everything. Go to something you are interested in or something you have never heard of…the choice is yours, but have a plan before you go to conference.
Networking
There are times when you will see people sitting at a table talking to one another and you might feel like the new kid at school during lunch not knowing where to go. My advice: sit with them! Introduce yourself and do not be afraid to ask questions or simply share a conversation. Every person in that room has been in your shoes before. You will be surprised at how easy it is to start up a great conversation. Look at name badges to let you know where people work, if they hold any board positions, if they are conference volunteers, and more. Use name badges as a way of asking questions and starting conversations. Also, be sure to bring your business cards. You will most certainly be exchanging information with others.
First-Timers' Luncheon
Wednesday, 11:30 am – 12:30 pm
This is a perfect way to meet people like you who have never attended conference before. It's also an opportunity to make connections with volunteers at the lunch who are veteran members of IACAC. The luncheon is also very entertaining with this year's theme, Out of This World. Participate in the theme! I promise you will not be the only one who dresses the part and it is fun!
Mentorship Reception
Wednesday, 4:00-5:00 pm
This is a great place to meet people with all levels of experience. In attendance will be mentees who are just starting out their careers along with mentors who have been in the field for numerous years. Many members of the IACAC Executive Board also participate in this event. Get your free drink ticket and mingle with everyone while playing BINGO. This is another great opportunity to meet new people.
Exhibitors
On Thursday, more than 20 companies and organizations will be in the main lobby of the hotel, ready to share a conversation with you. These friends of IACAC not only support the conference financially, but are also there to help you progress in your career. Chatting with different vendors can help you learn more about how your college, high school, or organization can do a better job connecting with the populations you serve. Even if you don't have purchasing power, bringing back a new idea or two to your office may help you create positive change down the road.
Membership Meeting
Thursday, 8:15-9:30 am
What can your IACAC membership do for you? How do your membership dues get put to good use? As a first timer at conference you probably have a lot of questions about IACAC, but this meeting will answer the first two questions and many more. Hear about the latest happenings in IACAC and listen to the audience participate with their questions and comments. Plus, if you attend the meeting, you get to make your voice be heard through your vote. Attend the meeting to understand the inner workings of the organization.
Nightlife
When the sessions are done for the day, this is when even more fun begins! On Wednesday night, go to the beer and wine tasting event from 5:00-6:30. Later on in the evening, there are entertainment options on both Wednesday and Thursday nights. From 9:00-11:00 on Wednesday, play Family Feud with your colleagues. Then, starting at 8:30 on Thursday night there will be the annual dance party, but with a new twist. This year there will be air hockey, human-sized Connect Four, human-sized Jenga and a glitter tattoo artist! There is always something fun to do and colleagues to connect with in a non-working way!
This is your conference, so take advantage of what it has to offer to you. Learn something new, meet new people, and most importantly, have fun!