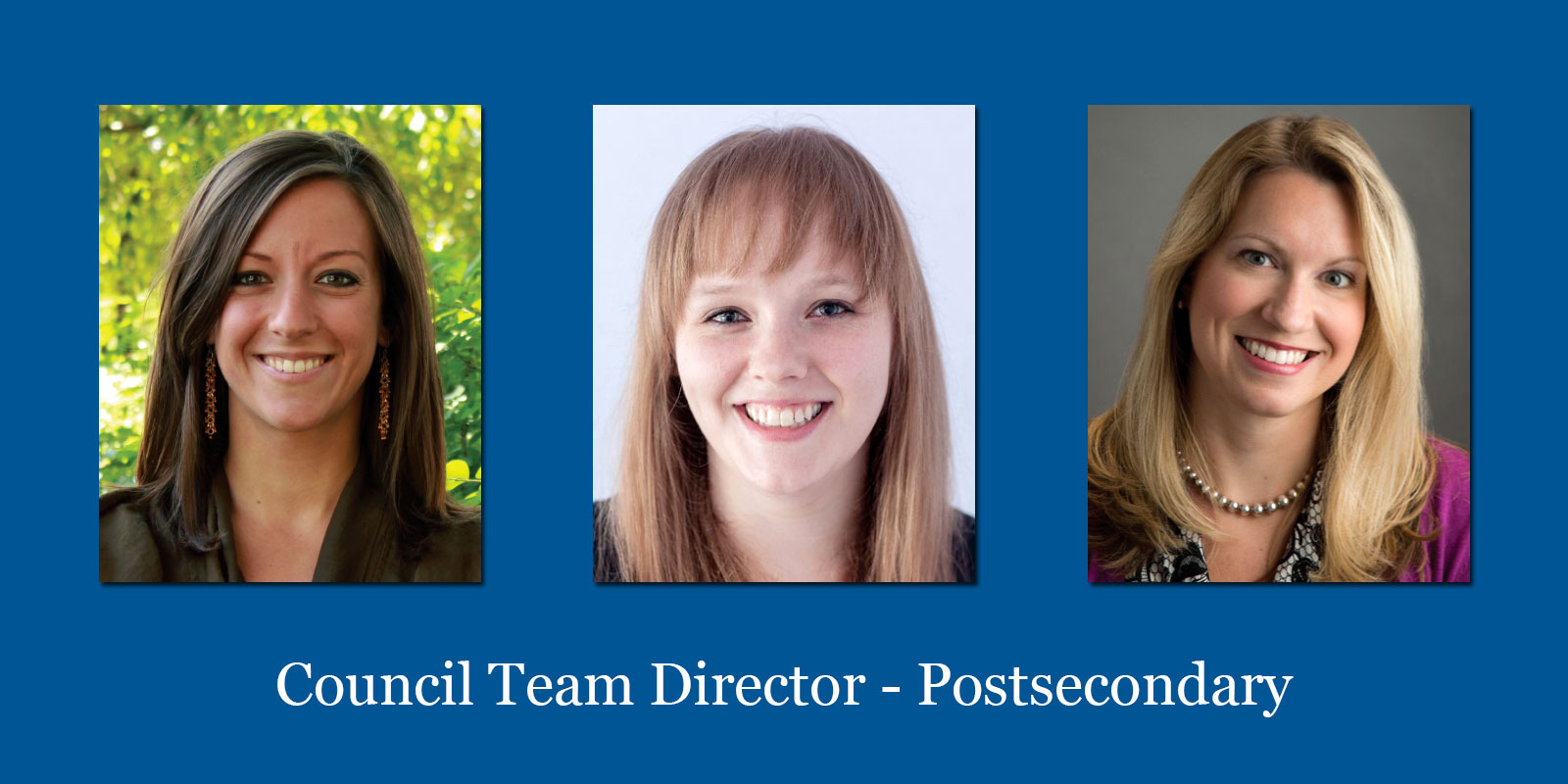 Candidates for Council Team Director – Postsecondary 2015-2016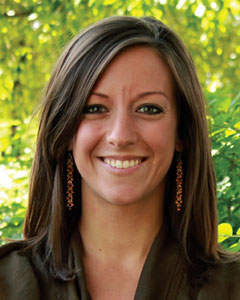 Jill Diaz
Assistant Director of Freshman Admission
Aurora University
Education:
B.A. in Exercise Science, North Central College (2008);
M.S. in Leadership for Service, Aurora University (2015)
IACAC Member:  6 years
IACAC Activities:
Summer Institute Committee Member (2010);
Raffle Committee Member (2010–2012);
Membership Committee Tri-Chair (2011–2013);
Annual Conference Program Committee Tri-Chair (2010–2013);
Northwest District Seminar Co-Chair (2015);
James A. Alexander Newcomer Award (2012)
NACAC Activities:
Member: 5 years
Other Professional Activities:
Staff Executive Council Secretary (2010–2012);
Started and Supervised Spartan Ambassador Program (2010–present);
Student Leadership, Education and Development Program (2015);
Intervarsity Advisor (2009–present);
Planning Committee for First Year Experience at Waubonsee Community College (2015)
Candidate Statement:
I am beyond honored to be considered for the position of Post-Secondary Council Team Director. From the moment I stepped into this new and mysterious job called Admission, I was welcomed with open arms by the amazing organization that is IACAC.
It is this organization that has taught me so many important professional and life lessons; from learning how to network, how to balance different responsibilities (or what happens when you put too much on your plate) and the beauty of what can be accomplished when passionate people come together. I am excited to have the potential opportunity to serve within in IACAC in this new role. I feel my energy, dedication, passion for students/people and organizational skills will help me to be successful in this position. Thank you so very much for your consideration.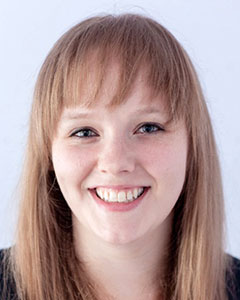 Emily Johnson
Associate Director of Admissions & Community-Based Organization Partnerships
Augustana College
IACAC Member:  6 years
IACAC Activities:
College Awareness & Preparation Committee (2011–2015), Co-Chair (2012–15);
Inclusion, Access & Success Committee (2011–2015);
Scholarship Committee (2013–2015);
Media Communications Committee (2013–2015);
Credentials Committee (2013–2014);
Middle Management Institute attendee (2013);
James A. Alexander Newcomer Award (2013);
Western District Seminar Co-Coordinator (2011, 2012)
NACAC Activities:
Member 3 Years; Guiding the Way to Inclusion Attendee (2010, 2012);
Conference Attendee (including national Inclusion, Access & Success counterparts annual meetings) (2011, 2013, 2014)
Other Professional Activities:
Board of Directors, Quad City Scholars (2014–15);
Symposium on the Recruitment and Retention of Students of Color attendee (2013);
Illinois School Counselor Association annual conference presenter (2013, 2014)
Candidate Statement:
IACAC has, to me, meant two things: inclusion and growth. Had I not found fast mentors within committees like College Awareness and Preparation (CAP) or Inclusion, Access, and Success (IAS), as well as among my fellow road warriors, I very easily would have found my way out of this profession. As I took on the role of co-chairing a committee three years ago, I was unsure of my ability to lead. Thanks entirely to those who came before me, I adopted the model of trying to help other professionals find their paths and voices. As I step down from the co-chair position with CAP after our sixth annual Camp College this summer, the new potential opportunity to continue developing this organization and its budding leadership is both exciting and humbling.
One of the most meaningful experiences IACAC has provided me is the constant reminder that professional development is just the tip of the iceberg. Through several committees I have gotten to see the very real impact that our work has, both directly and indirectly, on so many students who need our support, whether it's a pat on the back or coaching them through essay writing. Those who have been in a meeting with me are bound to know that I am often championing the reach of our programs further—specifically further west and south. My hope is that an executive board position would allow me to continue to be that voice for serving the students and professionals who need us most, whether they're in Chicago, "Chicago", or somewhere else in Illinois.
With an approach that some call passionate and others might call stubborn, I have every intention of continuing to contribute to the work done in IACAC, and to continue to push it further. It would be an honor to do so through the position of Council Team Director.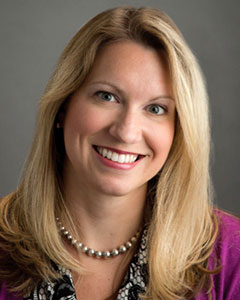 Jennifer Sloan
Assistant Director of Admission & Chicago Regional Representative
Cornell College
Education:
B.A. in Journalism & Political Science, Marquette University (2006);
M.A. in School Counseling, Concordia University Chicago (2012)
Previous Employment:
Concordia University Chicago, Admission Counselor (2006–2008);
Marquette University, Advancement Associate—Chicago (2008–2013);
IACAC Member:  4 years
IACAC Activities:
First Timers Committee (2014–present);
Government Relations Committee (2014–present);
Project Reach Committee (2014–present);
Scholarship Committee (2014–present)
Other Professional Activities:
CARR Member (2013–present);
Volunteer Lead for MS Walk—Western Suburbs (2013–present)
Candidate Statement:
I am so honored and humbled by this nomination; it would be an absolute privilege to serve on the IACAC Executive Board representing my post-secondary colleagues as Council Team Director. IACAC means so much to me as an organization and I am more appreciative all the time of the incredible professional development opportunities available to all of us.
As a brand new admission counselor, fresh out of college, my first experience with IACAC was Summer Institute 2006. To this day, it remains one of my all-time favorite experiences in admission. It was insightful and informative and I remember thinking how cool it was that so many people who were so seasoned were willing to take time out of their summer to help us learn the ropes. The knowledge I gained there was invaluable, especially as I hit the road for the first time, and equally important and the best surprise, these people were so much fun! It did not take me long to realize this was something exceptional about IACAC and the people who are a part of it.
You can see from my work experience that I left admission for a few years for an opportunity with my alma mater. During that same time, I was working on masters in school counseling. While I was at my internship working with students on their college search, I realized just how much I missed admission—the people, the students, even being on the road. I remain beyond thrilled to represent Cornell College regionally but do remember being a bit nervous at my first fair after starting the job—it had been a little while! When I got in the car after the fair, I shook my head at myself for worrying at all. That night, not only had I made a few new friends, who have become better friends since, but I even reconnected with colleagues that remembered me (and me them) from the last time I was a counselor. There is something special about college admission reps and I know IACAC has such a big role in continuing to facilitate that throughout our state and beyond.
I believe I am a great candidate for Council Team Director because of my passion for our profession, the work we do with students in providing opportunity wherever possible and the professional development available to all of us to grow as professionals and better assist our students. Being back in admission, I appreciate now, more than ever, the collaboration between colleagues and knew that getting more involved in IACAC was going to be a high priority for me. Since returning to Cornell, I have been a table host at the First Timers Luncheon and have gotten involved in GRC, Scholarship Committee and Project Reach.
I know I have come a long way from the new counselor I was at my first job. But, I also know that there is still so much to learn. One of the things I appreciate most about IACAC is the unique opportunity to be a leader while still learning so much. I would be so thrilled to serve in this leadership role that would allow me a chance to represent my college colleagues, bring creative and innovative ideas to the table, further facilitate more opportunities for our Illinois students, and continue to learn as a professional. I am so passionate about our profession and being away from it only further solidified just how much I love it and how committed I am to it and to this organization. It would be such an honor to utilize the knowledge and experience I have gained to represent my fellow admission counselors as Council Team Director.