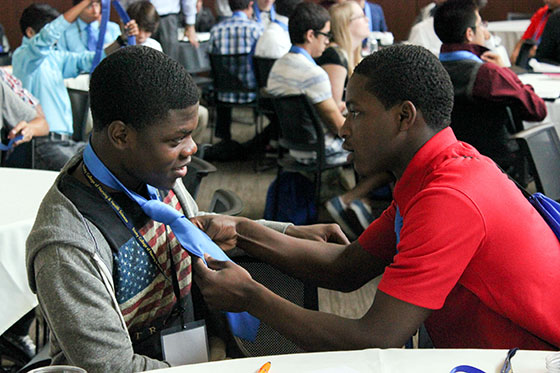 Brotherhood and Connectedness at the Motive Me Young Men's Conference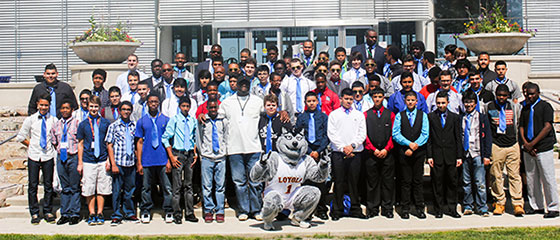 By Sparkle Hunt, Loyola University Chicago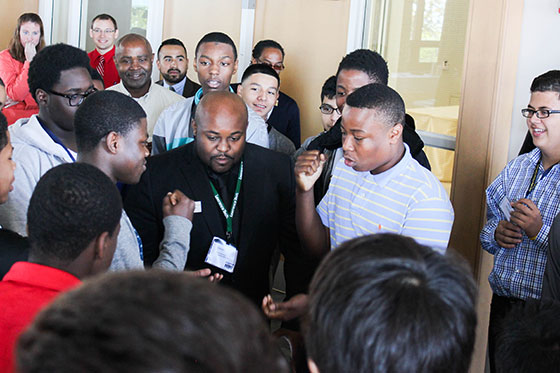 On Saturday, May 31, 2014, the College Awareness Preparation (CAP) Committee gathered for the 2nd annual Motivate Me Young Men's Conference, this year hosted at Loyola University Chicago. A group of male students from the Chicago metropolitan area attended the conference and left feeling motivated, inspired, and encouraged to do well in school and overcome all challenges or obstacles set before them.
As a conference volunteer, I can truly say I was moved by both the dedication and commitment of my fellow committee members as well as the level of attention and involvement of the student participants. As the students began to arrive and fill the room, a breath of silent emotion and enthusiasm ran across the faces of many CAP committee members. It was exciting to see a great turnout this year and especially encouraging to see a large increase in student participation from last year. Anabel Menifee noticed how overwhelmed with joy Delorean Menifee (DJ) was when the opening session was full of young male students. Anabel then told DJ that it's okay to cry.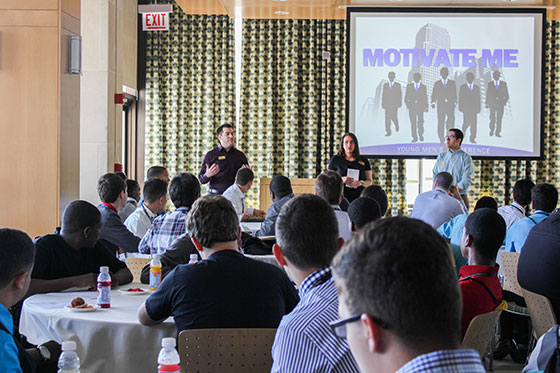 The session topics for Motivate Me included the following: Importance of Academics, Effectiveness & Confidence, We Quit When We Finish, I Am My Brother's Keeper, Lies Truth & Credit, Pass the P's Please, Never Stay Down. Committee members Omar Solomon and Reuben Burnley also facilitated a large rock, paper, scissors ice breaker activity for the young men and Sparkle Hunt moderated a Loyola student panel. The keynote speaker for the conference was Jeris Pendleton of the Indianapolis Colts. Jeris told the inspiring story of his path to the NFL, sharing his personal and academic challenges, those who discouraged him and how he pushed forward believing that he could and would achieve his goal of entering the NFL.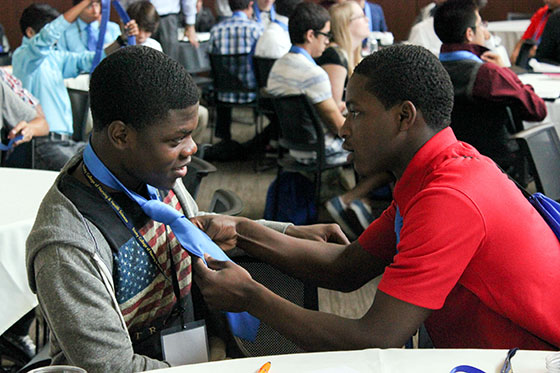 The program finally concluded with the Tie Ceremony, led by Delorean (DJ) Menifee, who explained the significance of the tie as a part of manhood. The tie ceremony was by far my favorite part of the day. As I looked across the room, I noticed many men within the admission profession and chaperones assisting students in learning how to tie their tie, provided by the CAP committee. Even my student volunteers and the keynote speaker joined in teaching the students how to tie. The students even began helping each other during the tie ceremony. The display of brotherhood and connectedness among the students and volunteers was amazing. The Motivate Me conference inspired the students to excel and succeed in their lives. On behalf of the College Awareness and Preparation committee, thank you to all the participants, volunteers, and to IACAC as a whole, for your support. Special thanks to the student attendees for allowing us to service and promote a brighter future for you!