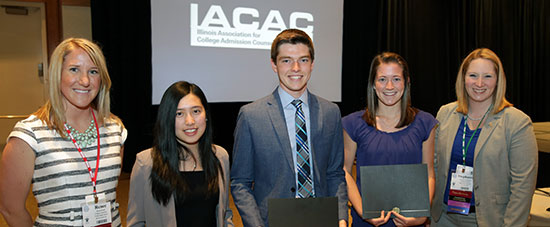 Five Scholarships Awarded to Outstanding Students Across Illinois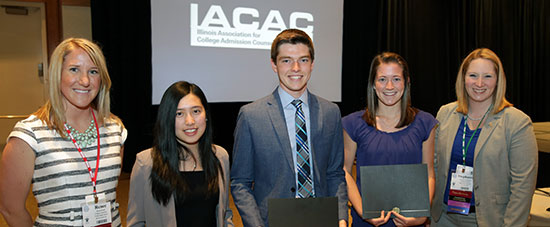 By Renee Koziol, Trinity High School
Scholarship Committee Co-Chair
The IACAC Scholarship was created two years ago based on the thoughts, commitment and passion to give back to those we work with on a daily basis. The IACAC Executive Board decided to award five $1,000 scholarships every year. This year the 40 members of IACAC who volunteered to be part of the committee. They took on the most difficult task of reading all of the application files and narrowing down the list of the most deserving candidates to the final five. We had nearly 390 applications which represented over 100 high schools within the State of Illinois.  
The five candidates truly represent the amazing students we have in our state. Our recipients are:
Minxian Liu from Chicago Bulls College Prep in Chicago. Her counselor is Amy Walsworth. Minxian moved to the U.S. at 13 and taught herself English. She then developed a Chinese Enrichment class in an effort to expose her classmates to the Chinese Language and Culture. She is a member of NHS; AP Scholar with distinction; Questbridge Finalist; Posse Finalist and attended the IIT Boeing Scholars Academy where she taught students from the Boys and Girls Club.
Khensu-Ra Love-EL from Kenwood Academy in Chicago. His counselor is Dr. Shelby Wyatt. Khensu-Ra is the President of the mentoring organization, Men of Distinction; and a mentor for Freshman Institute and Ally US.  He is a scholar athlete; is a member of the NHS, National Spanish Honors Society and National Art Honor Society.  He served as ambassador for the American Field Service; lead a community service trip to Panama; served as a mentor for Freshman Institute and Ally US; and is an active volunteer with Best Buddies, having contributed over 1,000 community service hours.
Grace Ng from Naperville North High School in Naperville. Her counselor is Jennifer Witt. Grace is involved as team captain and two-time 1st place winner at state for the Science Olympiad and she is team captain and qualified for nationals for the Math team. She has won regional and state recognition for Worldwide Youth in Science & Engineering. Finally, she has completed internships at Loyola University's Cancer Center as well as within Biomedical Engineering at IIT and has won numerous 1st place piano and violin awards.
Kelsey Shipman from East Richland High School in Olny. Her counselor is Kristy Ochs. Kelsey is an Illinois State Scholar and a Daughters of the American Revolution Good Citizen Award Recipient. She is a three sport athlete; member of Fellow Christian athletes, co -president of the History Club, and student council representative.  She has volunteered numerous hours with the American Red Cross, as a mentor for Big Brothers Big Sisters, and at her church.
Nicholas Vucovich from William Fremd High School in Palatine. His counselor is Ashley Curtin. Nicholas is a 10 year volunteer for HAVE (Helping Autistic Voices Emerge), and an Executive Board member for Service Over Self.  He is team captain and All-Conference and state qualifier for Cross Country and All-Conference and a national qualifier for Track & Field; he is a member of NHS and an AP Scholar with Distinction. Nicholas is an Illinois State Scholar and recipient of the 6th Congressional District Excellence Award.
Thank you to everyone who had students apply for the scholarship.  The committee had a lot of work to do in narrowing down the five candidates from such an outstanding applicant pool. This scholarship is such an exciting opportunity to assist the amazing students we work with on a daily basis. These five scholarships also further promote all the great things IACAC does and the opportunities we provide to students, counselors and admission professionals all over the state.