 President's Update: Where did summer go?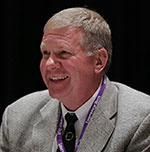 By Mike Duker
IACAC President
A few weekends ago I had the perfect Fall day. I watched my favorite college football team improve its record to 9-0 (Go Huskies), and spent several hours working in my yard on a beautiful afternoon. Fall is my favorite time of year. I was quickly brought back to reality that evening when I received a phone call. It was from the guy that plows my driveway in the winter. I couldn't believe it was time to start thinking about snow removal already! I really don't like the cold and snow-I'm much more of a warm weather fan. Where had summer and fall gone? Along those same lines, I can't believe I'm seven months into my presidency of IACAC. Where has the time gone? It seems like just yesterday that I was wrapping up our conference in May. I can honestly say that I have thoroughly enjoyed the first 18 months of my three year presidential cycle. I have met so many wonderful people on both the state and national level. It has been one of the best professional experiences of my career.
Having been in an educational setting for my entire career, I had gotten used to summer being kind of a down time. In IACAC that is certainly not the case! So much has happened since May that it makes me proud to say that I am a member of this great organization. After conference, my next job was to appoint committee chairs for IACAC's 22 standing and ad-hoc committees, and to begin working with the new Board to keep IACAC moving forward. It has been a privilege to work with this outstanding group of people. They are some of the hardest working, most dedicated people I have ever met. 
Over the summer many great programs took place within IACAC. The Middle Management Institute hosted another very successful program with 31 participants at Lake Forest College. Summer Institute was also very successful. Thirty-nine new admissions professional gathered at the University of Illinois at Springfield to get an introduction into the world of college admissions. Forty high school counselors took part in the Bus O'Fun trip, a group very near and dear to my heart. They toured many great schools in Illinois, Indiana and Michigan. Camp College hosted a record number of high school students at Western Illinois University. They also attended campus tours at Monmouth, Knox and Augustana. Last but not least, this year was the first Young Men's Conference hosted at Concordia University. Thirty-one young men came together for this fantastic conference. It provided an opportunity to inform, inspire, motivate and empower young diverse males from the Chicago area. The program included various educational sessions, a college tour, and a college fair. The Young Men's Conference was chosen as the recipient of NACAC's Rising Star Award. This program recognizes leaders and programs that exemplify excellence and dedication to serving the needs of students in the transition to college. Congratulations to the chairs of this committee: D.J. Menifee, Ziggy Blackwell, Anabel Menifee, Emily Johnson and Lauren O'Connor. GREAT JOB!
Once school started back up, IACAC continued the momentum. Another very successful National College was hosted at Navy Pier on September 29th. The number of volunteers needed to pull this off is amazing. Thanks for all of your efforts. 
Many IACAC members also attended the NACAC National Conference this fall. It took place in Toronto, Canada. The national office had told us to expect about a 20% drop-off in attendance since the conference would be outside the country.  Illinois proved them completely wrong. We actually had one more person from Illinois attend this conference than the year before in Denver. That's outstanding! I expect next year we will set all kinds of attendance records since the conference will be in Indianapolis. Along those same lines look for emails from our Indiana counterparts looking for volunteers to help at conference. I'm sure our membership will step up yet another time to get this done.
As I'm sure all of you know by now we have had a little shakeup in the Presidential team of IACAC. Sacha Thieme, elected last May as President-elect, got an offer for her dream job. She will be taking on a new challenge as Director of Admissions at Indiana University. She will be going home. Congratulations, Sacha! This created a vacancy as President-elect. After talking to many IACAC members who provided invaluable input, I have appointed Anne Kremer of DePaul University to serve in that capacity. The Board unanimously approved Anne at our November Board meeting. I have truly enjoyed the short time that I was able to work with Sacha. She is a very knowledgeable, hard working and passionate person. In the time she served IACAC she made a name for herself at both the state and national level. Our loss is definitely Indiana's gain and I will miss her a lot. However, I do believe we have a very worthy replacement. Anne has been active in many aspects of IACAC and will do a great job in this position. I am very excited to get to work with Anne. 
As Thanksgiving draws close, I have much to be thankful for, a great family and supportive wife, being retired, and getting to be part of this fantastic organization. I am looking forward to the second half of my presidential term.  I don't know how it can possibly top the first half, but knowing this organization and the people within it, I'm sure it will be great. I can't wait to see what is ahead.