 Inform, Inspire and Empower Chicago's Male Youth: An Update on the Young Men's Conference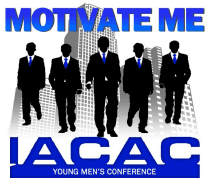 By Kasey Mather
City Colleges of Chicago
With the generous support of IACAC, the College Awareness and Preparation Committee is excited to present the Young Men's Conference—Motivate Me—a one-day event that aims to inform, inspire and empower 125 young, diverse males in the Chicago-land area.  Students will engage and interact with secondary and post-secondary educational professionals to strengthen their focus on the future, emphasizing successful high school completion and the pursuance of higher education.  The Young Men's Conference will take place at Concordia University of Chicago on Saturday, June 1st, 2013 from 8:00am– 3:00pm. Attendees will be provided continental breakfast, lunch, transportation, and conference materials with no fee.  A special thanks to NACAC's Imagine Grant for providing funding towards the cost of transportation.
The Young Men's Conference will feature workshops, a student panel and keynote addresses, all led by adult males exemplifying the use of education in the achievement of both personal and professional goals.  Among the keynote speakers will be Cecil Curtwright, Associate Provost at the University of Illinois at Chicago, who will lead the day with an essential message regarding the importance of academics, and Paul Connor, coach and motivational speaker, who will conclude the conference with an address on leadership.
Students will have an opportunity to attend a variety of workshops focusing on the importance of education, facing adversity, becoming a man, and much more.  The day's workshops include:
"My Word is Bond" – A message regarding the importance of accountability in shaping one's future, and an exploration of the most critical elements of a man's character.
 "Basketball Trash-Talk:  A Brief Exploration of Masculinity" – An analysis of the phenomenon of "trash-talk," extending far beyond the court, and a look into learned messages of Toughness, Pride, Vulnerability, and Masculinity.
 "Our Deepest Fear" – True, motivational narratives of young people who overcame adversity on their road to success, and the secrets that helped them achieve greatness.
 "Rookies, All-Stars and Legends: Longevity through positive Mentorship" – An exploration of the role and benefits of positive mentorship essential to the success of young men in an increasingly "dog-eat-dog" social mentality.
 "Working in Teams" – A lesson surrounding the importance of teamwork in goal achievement; envisioning a "Dream Team" for application to every-day life.
Authentic Manhood: "Are You About That Life" – A humorous, honest exploration of manhood—how it is formed, learned and the cultural and societal norms that have long defined the meaning of man in America.
 "The Master Plan" – An in-depth, inspirational look at goal setting—how to set and achieve both long and short-term goals.
Attendance of this event is encouraged for male students completing their freshman year of high school in the spring of 2013. They must have a minimum GPA of 2.0 after their first semester of high school in order to be eligible for the conference.  Males from under-served areas, and of diverse socioeconomic and cultural backgrounds, are strongly encouraged to apply.  The application is available on the IACAC website, and the deadline for all applications is April 5th.
Your support of the conference is essential to its success, and donations of the following are greatly appreciated:
Notepads/binders
Give-a-way items
Monetary contributions, contact DJ Menifee at (630) 474-9785
If you and/or your institution are interested in donating materials to the Young Men's Conference, please contact Diliana Velasquez at (708) 209-3105, or mail items to:
Diliana J. Velasquez
Assistant Director of Admission
Concordia University Chicago
7400 Augusta
River Forest, IL 60305-1499
Nominate students, be a part of the Young Men's Conference, or contact us with questions.