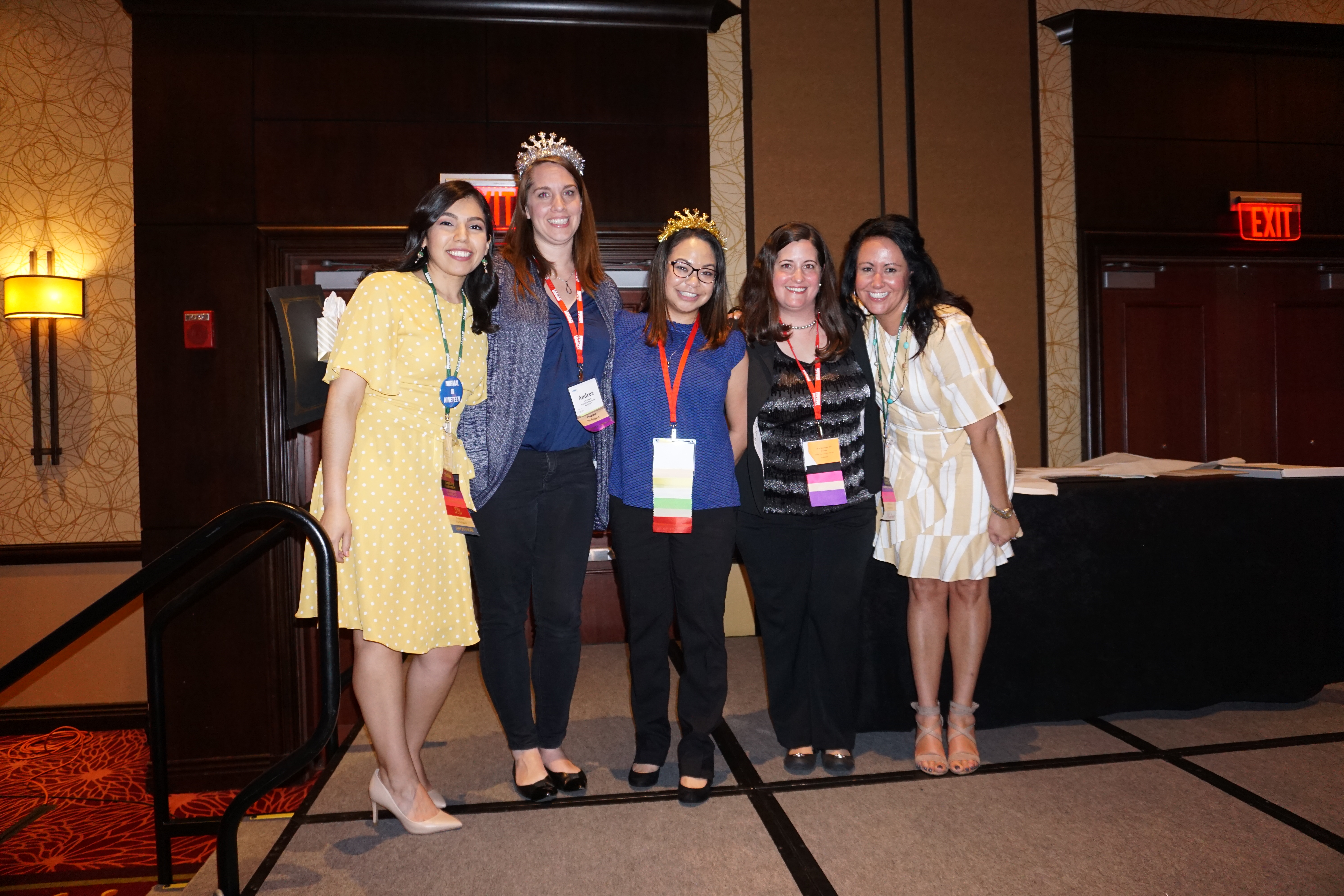 Mentorship Match of the Year 2019
Andrea Rusk and April Ponte
Andrea Rusk, Mundelein High School
Why did you join the IACAC Mentorship Program?
I originally joined my very first year because I felt tremendously lost. I was starting a new position and creating a program from scratch, so I needed as much support as I could find. I was matched with an amazing mentor that year, Renee Koziol, who continues to be a lifelong mentor and friend to this day. My second year I actually "proposed" to a mentor on the college side since I didn't have any personal experience there. My match was Sarah Goldman and I learned so. incredibly. much. from her. Last year I elected to become a mentor to attempt to provide the same levels of support to someone new. This program is so valuable!
How did you connect during your match?
April and I are in schools that are pretty far away from each other, and as high school counselors we don't have as many group events as the college representatives do nor the ability to leave the building easily, so we didn't meet up in person. Instead, we connected via email and phone regularly. We would have amazing conversations and I could follow up by sending her resources through email. It worked well for us.
What have you learned from your mentor/mentee?
I felt renewed vigor working with April! She is so positive and has so much passion for this profession. It was also a good reminder for me of what the generalist role and timelines, which helped me connect with the other counselors in my building. On top of all of this, April's background as a college rep added new dimensions to the ideas that she came up with.
What advice would you give other members?
Fill out the form and be a part of this amazing program. If you have concerns about it at all, they are probably not valid. Connecting is so important in our work, especially since many of us are islands in our buildings.
How has your membership in IACAC enhanced your professional development and how else have you been involved in IACAC?
IACAC has provided me with all of the resources, connections, support, and guidance that I needed to get my program off the ground and help me develop it into the beast that it is today. I have so much love for this organization! Everyone I meet is so impressive and thoughtful. The passion for supporting students and helping them work through the college planning process is REAL. I constantly lean on my secondary side colleagues and college representatives, and they are always there for me. The presentations, conferences, ability to ZOOM into meetings, webinars, fairs, meetups, and more are great educationally and for the psyche!
Beyond the mentorship program, I'm also a member of the Professional Connections and High School Counselor Professional Development committees. This year, I am a co-chair for the EAS (exhibitors, advertising, sponsorship) Committee, part of the Conference Planning Committee. I've also been a First Timers table host for the past two years, which is really a wonderful experience. I've been a presenter for the HSCPD Counselor Camp, and I have presented every year at the annual conference. I also volunteer at all of the IACAC Regional Fairs at CLC.
Any other reflections or words of wisdom?
Don't be shy. If you have a question, ask someone. If you don't know who to ask, I am officially volunteering myself to be that person! Sign up for a mentor. Attend events. If you can't get out of your building or make it to a location, utilize ZOOM. You're never alone when you're a part of IACAC.
April Ponte, Oswego High School
Why did you join the IACAC Mentorship Program?
A long time ago, someone gave me the advice to always try to find a mentor in everything you do. This became very important to me, especially being the 1st generation in my family to grow up in the U.S. I don't always know what I don't know! It's always great to learn from others' experiences. Transitioning from College Admissions to High School Counseling gave me the opportunity to not only learn a new role but make new connections. Knowing the strong caliber of high school counselors within IACAC, I knew that if I had another member become a mentor to me, I would be learning from the best.
How did you connect during your match?
Andrea and I emailed back and forth and scheduled phone appointments with each other in advance. My first year of school counseling was a whirlwind and Andrea was great about knowing the best times to check in with me because I could probably use someone to tell me to take a break!
What have you learned from your mentor/mentee?
Besides giving me a great overview of what to expect in my first year and teaching me how to build upon experiences as time goes on, Andrea was extremely helpful when it came to learning about college and career curriculum and data collection. Even though I knew a lot about college admissions from my previous role, integrating new ideas, knowing how to scale things appropriately for a high school environment, and just feeling confident in relying on my background was very intimidating for me. Andrea always took the time to listen to how I was feeling, answered the million questions I had even if some were so basic, and empowered me to take on the initiatives that I was excited about. With Andrea being my supportive cheerleader, I ended up advocating my way onto a new AP course initiative committee, I created a fun March Madness Challenge to provide more college exposure for my student population, and learned to make wonderful connections in my building. Hearing about all the amazing things Andrea is able to do in her position only fueled the fire in me to want to reach students in the same way. I truly learned from the best!
What advice would you give other members?
Continue to find ways to be involved in IACAC and make new connections every single year. I've learned so much from other members that I always feel like I have a team supporting me. If you haven't gotten a mentor yet, sign up ASAP because the connection you'll make can be so impactful!
How has your membership in IACAC enhanced your professional development and how else have you been involved in IACAC?
Every day that I attend IACAC committee or board meetings, I am so inspired by all the people sitting around me. IACAC is filled with amazing individuals with different passions when it comes to helping students and helping each other as professionals. I wish I could say I'm an expert in working with students as others are in the organization but I'm not. The great thing about IACAC though is that I get to talk to those experts constantly! I've always been passionate about helping others but learning through the passions of other members has really expanded my knowledge of the field. It's because of the positive experiences I've had through IACAC that I know WHY I want to do my job everyday. My love for IACAC has brought me to many years on the College Awareness and Preparation Committee, the Transfer Advisory Committee, Summer Institute Committee, College Fair Committee, Nominating Committee and a position as a Council Team Director. I hope to still do more in the future!
Any other reflections or words of wisdom?
This can be really tough as everyone is in a different situation but if you are able to attend either committee meetings, a seminar, summit, or the conference in person, do it as much as you can! If your schedule doesn't allow for this then try to volunteer for some of the larger responsibilities within your committee. Both ways really help you to get to know other members and feel a strong connection within the organization. It made a huge difference for me. Give it a try!
We asked some mentorship pairs to respond to five questions about their involvement with the Mentorship Program. We're sharing their responses to give some insight on what can be gained from developing a mentorship relationship.
College Spotlight on Rosa and Julie
Match of the Year 2013:
Rosa Reiber, Concordia University Chicago and Julie Nelson, Xavier University
High School Spotlight on Suzanne and Beth
Suzanee LoSasso, St. Scholastica Academy and Beth Gilfillan, Deerfield High School
Middle Management Spotlight on Shawn and Anne
Shawn Wochner, Western Illinois University and Anne Kremer, DePaul University