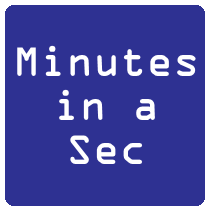 Minutes in a Sec – January 2021
The "Minutes in a Sec" memo, a compilation of motions passed and highlights from our recent Executive Board meetings, is an effort to keep our membership more informed. As always, our Meeting Minutes are available at Meeting Minutes & Reports for your review after they are approved at the next Executive Board Meeting. Please enjoy these highlights.
IACAC Executive Board Meeting
HIGHLIGHTS and MOTIONS
January 8, 2021
Meeting conducted via Zoom
HIGHLIGHTS
 Treasurer:

Year to Date Report – things are coming along the further we get through the year. We were able to receive our portion of the revenue share from Strive Scan so that helps balance things out with our expenses. There are still more expenses that will be happening this spring, but committees have been getting pretty creative with how they can help keep our expenses down bring in some revenue to stay as balanced as possible.
Thank you for everyone that turned in your budget requests for the next fiscal years. I know some of your committees had to get a little creative, especially those with things to do this next summer like Summer Institute, Summer tours, CAP, IAS with Sharing the Dream, etc.

Past President:

Nominations close tomorrow (you can say today since I'm reporting this tomorrow). Still accepting them, particularly the HS Delegate and Council Team Director positions.
The Credentials Committee is established and scheduled to meet on Tuesday, January 26th from 12:30-3pm.
The Nominations Committee is established and scheduled to meet on Thursday, January 28th from 12:30-3pm.
The slate of candidates will come out by the end of February.
Membership meeting will be on April 14th and voting for candidates/by-laws will open up then.
Voting will close the evening of April 21st.

President elect:

Conference Details:

Keynote Speaker is secured – Stedman Graham
End Note Panel is secured
Factuality Program is secured/contract signed
Schedule at a Glance is finalized
Call for session proposals out this week
Conference Team to meet virtually at the end of January
We are going to have a spirit wear store for IACAC and Conference.

President:

Liaisons are to work with each chair to make sure we are serving the membership properly.
Please see the complete version of the IACAC Exec Board January 2021 Meeting Minutes available on the IACAC Website.