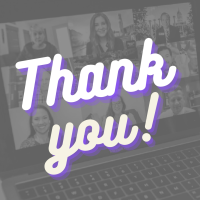 Giving Thanks for ICF Volunteers
Betsy Stevens
University of Pittsburgh
The Illinois College Fair Committee wants to extend a thank you to everyone who participated in the Virtual College Exploration for all Illinois Students this past fall. From the colleges and universities that presented, to high school counselors who attended and over 100 volunteers who facilitated sessions, we could not have had a successful program without your help. Our top volunteers included members from:
Michigan State University
Illinois Student Assistance Commission
Fenton High School
Augustana College
Over the course of the six-week program, there were 377 sessions, which included both institution-specific presentations and panel presentations. There were 9,149 students and professionals registered for these sessions from 531 high schools and 31 states – the top states included Illinois, California and Missouri. Students found the presentations to be helpful and 88 percent of the sessions received a four or five star rating.
We appreciate our members embracing this new type of programming and this spring we are excited to introduce the Strive Scan 6 x 6 program which we will highlight in the coming months. We believe this option will most closely mimic a college fair and keep our audience engaged. As Megan shared last week, IACAC has decided to not sanction any in-person college fairs this spring.
Again, thank you to all who participated and we look forward to what virtual programming looks like in 2021!