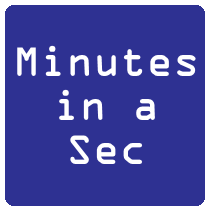 Minutes in a Sec – January 2019
The "Minutes in a Sec" memo, a compilation of motions passed and highlights from our recent Executive Board meetings, was presented this past spring in an effort to keep our membership more informed. The IACAC Secretary and Media Communications team look forward to sharing this with you on a regular basis. As always, our Meeting Minutes are available at Meeting Minutes & Reports for your review after they are approved at the next Executive Board Meeting. Please enjoy these highlights from November!
IACAC Executive Board Meeting
HIGHLIGHTS and MOTIONS
Friday, January 18, 2019
University of St. Francis
HIGHLIGHTS
Treasurer:Request for committee 2019 – 2020 budget proposals went out.
Membership: Current membership numbers are slightly behind last year's numbers, committee is working on a calling campaign to call past members whose membership has lapsed.
Chief Delegate: There might be a possible resolution to the Department of Justice investigation into the Code of Ethics and Professional Practices. Statement from NACAC:

"This has been an extraordinary year for the association. The challenge to our Code of Ethics and Professional Practices by the Antitrust Division of the Department of Justice has struck a nerve. The association has been required to reflect deeply on our historical core values to protect the best interest of students we all serve, while honoring our diverse institutions and their recruitment practices. The legal debates, compliance with DOJ requirements for documentation, and careful communication with the membership required unprecedented expenditures of time and financial resources. We remain hopeful this will be resolved in early 2019."
President-Elect: Conference registration is live. The keynote speaker will be: Akil Bello, Princeton Review, featured in the film, "The Test and The Art of Thinking."  The endnote will include a legislative panel of legislators and/or GRC reps to discuss advocacy, issues, and legislative priorities.
Past-President: Updates will be made to the Leadership Manual to improve accessibility. The IACAC Executive Board position nominations were reviewed in January.  The IACAC Past President's luncheon was held in February allowing current presidents to engage and connect with past presidents.
President: The NACAC Winter Leadership meeting will take place in Washington, D.C. in March. A call for nominations for IACAC Awards (Patricia A. Kasowski Recognition Award, James A. Alexander Newcomer Award, Molly K. Arnold President's Service Recognition Award, and the Inclusion, Access and Success Award) went out with a March 1, 2019 deadline.  The Request for Proposal for the Communication Specialist went out with a deadline of February 15, 2019.  Annual committee reports are due in May.
Unfinished Business: The Financial Ad-Hoc Committee gave a final report which will be shared with membership at the annual membership meeting at conference. The discussion of Annual Conference timing continued.
New Business: No new business.
MOTIONS
This meeting had no motions other than Call to Order, Approval of the November Board Meeting Minutes, and Motion to Adjourn.
Please see the complete version of the IACAC Exec Board Jan 18 2019 Meeting Minutes available on the IACAC Website.