Candidate for President-Elect Secondary 2016-2017
Roberto Suarez
Guidance Counselor
Homewood-Flossmoor High School
Education:
B.A., M.B.A., M.A., Lewis University
Ed.D. candidate, DePaul University
Previous Employment:
Illinois Mathematics & Science Academy (2008–2011)

Lewis University (2004–2008)

Tobin Petkus & Munoz, Law Firm (2002–2004)

Kurth Lampe, PR & Political Advising Firm (2000–2002)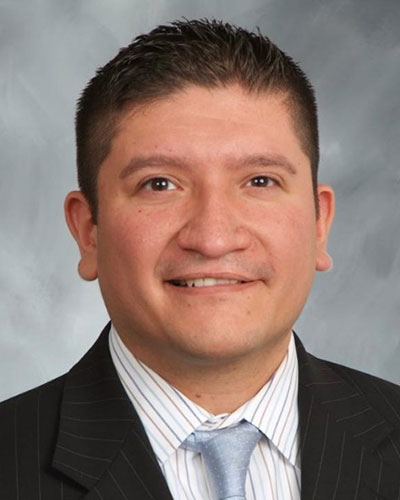 IACAC Member: 12 years (2004–present)
IACAC Activities:
Strategic Plan Ad Hoc Committee (2015–2016)

District Seminar Presenter (2006, 2007, 2016)

Sharing the Dream Planning Committee (2014–2015)

Motivate Me Conference Presenter (2012–2015)

Camp College Presenter (2012–2015)

Nominating Committee (2012–2013)

Molly K. Arnold President's Service Award Recipient (2012)

IACAC Chief Delegate (2011–2012)

College Awareness and Preparation (CAP) Co-Chair (2010–2012)

Summer Institute Presenter (2006, 2011, 2012)

Annual Conference Presenter (2004, 2006, 2007, 2009, 2011, 2013, 2014)

NACAC Activities:
Member 6 years (2010–present)

Illinois Delegate (2010–2012)

National Conference Presenter (2010)

Other Professional Activities:
College Board, Delegate (2014–present)

University of Iowa, Counselor Advisory Board (2014–present)

Illinois Mathematics & Science Academy, Admission Review Committee (2011–present)

DePaul University, College of Education Invited Lecturer (2011–present)

Nike Elite, Leadership Coach (2008–present)

Northwestern University Center for Talent Development, SEP Program (2011–2014)

College Board, Guidance & Admission Advisory Council (2011–2014)

Chicago Scholars, Launch College Counselor (2010–2014)

College Board, BigFuture Advisor (2009–2011)

College Board, Preparate Conference Committee(2008–2011)

Considering the recently adopted strategic plan for IACAC, what do you hope to achieve within this role as it pertains to the objectives of new plan?
Those that know me best know that I am not known to be an individual of few words. In order to maintain focus on the direction I would like to bring to IACAC's strategic plan as President- Elect I will need to focus on several elements that connect to my personal and professional ideology. I believe it is essential for everyone to fulfill one's purpose in life and make an impact if not a tidal wave on one's local community leading to a ripple effect to the greater society.
With the five areas of the strategic plan (Membership, Fiduciary Responsibility, Educational Opportunities, Outreach, and Brand) or MFEOB, I plan to begin discussions on aligning IACAC programs and policies within each area. I truly believe our strategic plan provides a framework for IACAC to not just be a great organization, but to be an organization with exceptional best practices. As President-Elect I see my role as an initiator of bringing theory to practice. IACAC has the reach and talent within its membership, along with the vision to make an impact in the lives of all students with the attainment of a college degree. Specifically, my objective with IACAC's new plan is to bring life to Membership, Educational Opportunities, Outreach, and Brand through the building and enhancement of individual and organizational relationships.
I will focus on connecting individuals and organizations with interrelated passions. One would likely not use the word "sexy" when describing Fiduciary Responsibility, but I believe it will be my role to understand and involve myself with the financial planning of IACAC. I will work with the Finance Committee and the Treasurer to maximize our assets and minimize our liabilities by incorporating a hybrid of conservative and innovative economics. In short, as President- Elect my goals include increasing our membership and expanding the name of IACAC through new and established networks as well as focus on growing the organization financially through new revenues related to grants and the use of nonprofit alternative assets.
If elected, what experiences, skills, and qualities do you bring to this specific position?
It is difficult for me to assess my skills and qualities based on having a growth mindset aimed at continuously working, learning, and improving myself in all levels in my life. As a public school counselor, I strive to be an equitable, open-minded, and global thinking educator focused on creating opportunities for all students. Through my early life experiences of being a low-income, first generation, supposedly "at-risk" student of immigrant parents to being
the first in my entire family in Mexico and the U.S. to be a college graduate and a doctoral candidate, I bring a unique perspective to college admissions. I've had a job since I was 13 years old and throughout my life have had to overcome many obstacles that involved environments of violence, drugs, and racism. Through the experiences of my personal life, along with my professional and collaborative experiences of working in education, public relations, political advising, research, engineering, robotics, business, and law, I believe I bring a wide lens and methodical approach to IACAC. Overcoming these obstacles has helped me develop an empowered and unstoppable passion focused on positioning all individuals for success. As President-Elect, I plan to incorporate all my experiences and skills to continue the great work of IACAC in connecting individuals to the life changing journey of higher education.