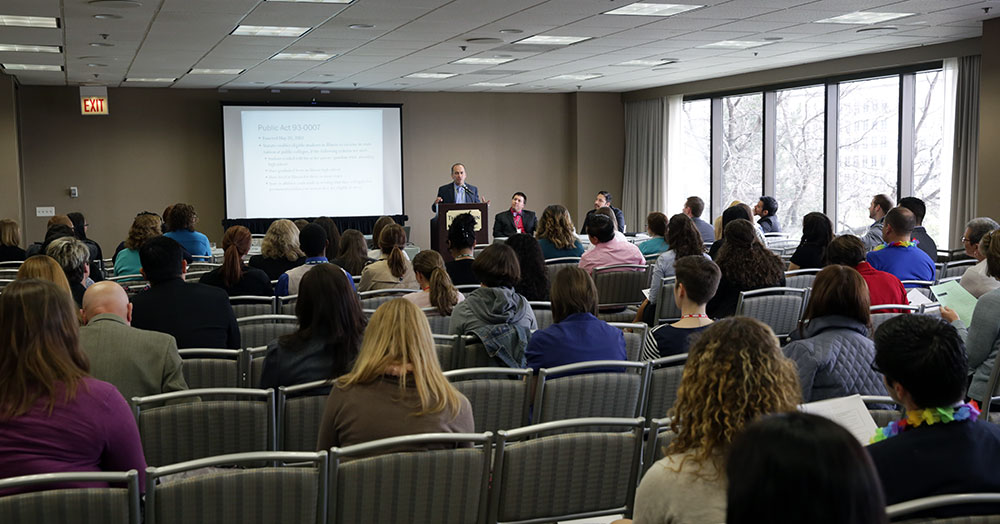 Summer Workshop Extravaganza!
One of the many sessions at this year's Annual Conference
By Emmett McGovern
Saint Patrick High School, Chicago
In a packed room of counseling professionals, you could sense the enthusiasm and anticipation of the upcoming presentation of new ideas to bring to counseling teams. During the B session of the first day of the IACAC Conference on April 29, 2015, three outstanding presenters, Rachel Georgakis from Fenton High School, Brian LaPorte from Naperville North High School, and Jill Cervantes from New Trier High School, shared how they have used recent summer sessions to enhance counseling programs at their institutions.
From Fenton's Boot Camp program to Naperville North's Rising Seniors program and New Trier's Essay Writing and Common App Workshops there was plenty to whet the appetite for the eager group of educators. Participating counselors came away with many new ideas of how to make the most of their summers and how to best serve incoming senior classes. These presentations covered topics ranging from career planning, the college search, interviewing, essay writing, the college application process, and the ever growing Common Application process.