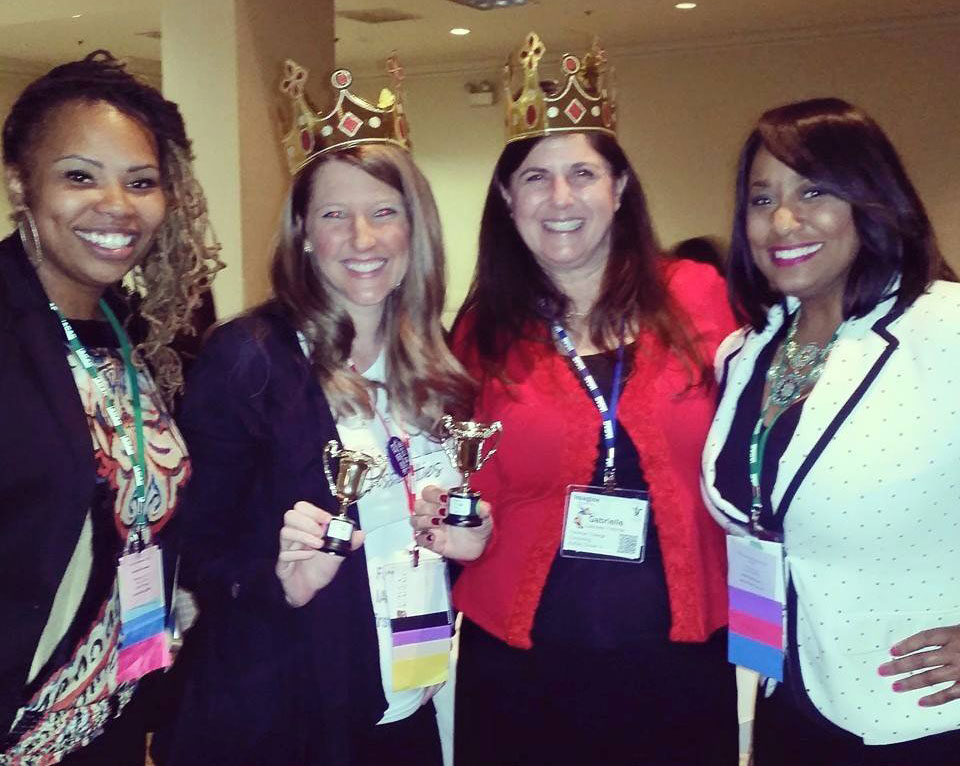 Imaging the Possibilities Through Mentorship
From left to right: Cerra Wilson, Traci Flowers, Gabrielle Feldman, and Kenya Taylor
Traci and Gabrielle were the Mentorship Match of the Year for 2014-2015.
By Kenya Taylor
University of Wisconsin Milwaukee
The Mentorship Program brings together new and experienced members of the counseling profession. Through mentee/mentor pairings, members are able to make connections that provide support, foster professional growth and development, and encourage the sharing of ideas. During the IACAC Annual Conference, the Mentorship Reception provided a great opportunity for new members, veteran members, and conference first timers to mix and mingle and learn about the Mentorship program. This year's reception was the largest we have ever had, and it was especially exciting to see so many first timers in attendance. It was an honor for Cerra Wilson and me to pass down our crowns for Match of the Year to Traci Flowers of Loyola Academy and Gabrielle Feldman of Buffalo Grove High School. Traci and Gabrielle connected on both a professional and personal level.
Traci on Gabrielle:
Her background is very impressive and she has a lot of great experiences with college counseling during her internship and with IACAC. She is doing everything right and I am trying to connect her to as many positions and opportunities within the field as I can.
Gabrielle on Traci:
The first time we met for dinner and had so much to talk about. Traci has been (and continues to be) incredibly supportive through my year of a challenging job hunt. She sends me links to job openings and has offered to forward my resume to those people she knows. Additionally, I will be working with Traci on the IAS committee for IACAC.
It was incredible to see the connections that were being made, career advice being given, first timers meeting new people, and members having a good time.