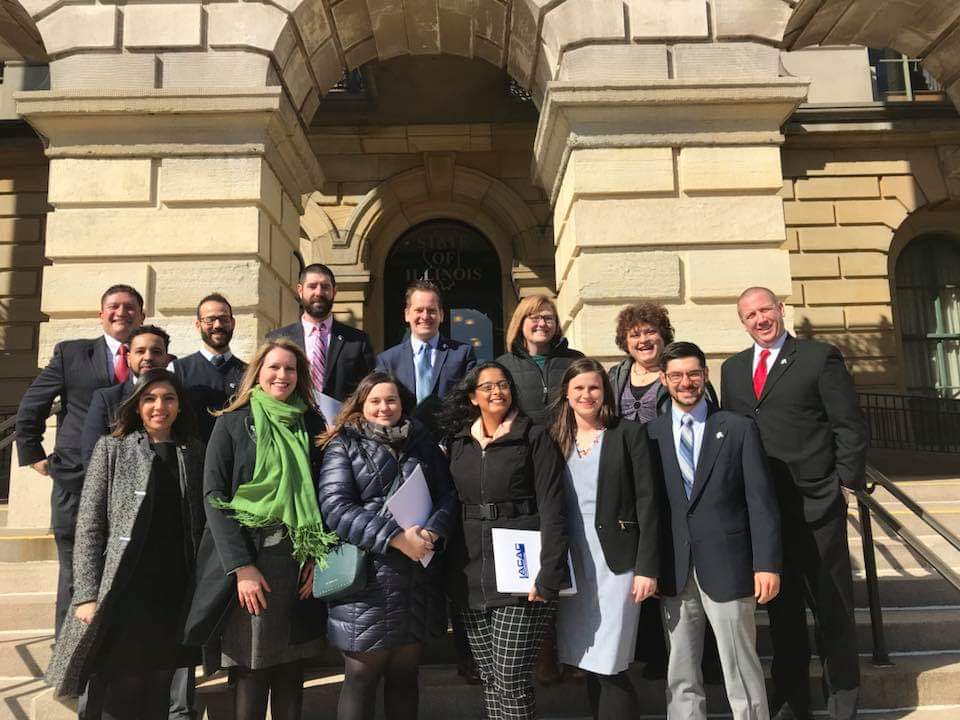 Government Relations Update
This past spring, IACAC Past-President, Roberto Suarez, was asked to present to the Higher Education Working Group of the Illinois General Assembly (HEWG), a 12-member group comprised of 6 Illinois State Representatives and 6 Illinois State Senators, including 6 Democrats and 6 Republicans. Following this meeting, IACAC's Government Relations Committee members had an opportunity to speak with members of this group at our 2018 IACAC Advocacy Day about their work and legislation in progress. In addition to these conversations, the working group spent months listening to and learning from key stakeholders regarding the future of higher education in our state.
We are thrilled to share good news about impactful legislation that has resulted from the work done by the HEWG. You can find the list HERE but we would also like to share a few highlights:
HB 5020 (now Public Act 100-0823): Expands MAP grant awards to public institutions from yearly to four years. (Student will continue to submit their FAFSA annually but the Act offers priority to students who have already filed and received MAP in previous academic years).
SB 2927  (now Public Act 100-1015): Creates the AIM HIGH Grant Pilot Program to encourage access and affordability for Illinois colleges and universities through a new merit-based scholarship. Illinois citizens with qualifying income, GPAs and test scores would be eligible, and funds would be provided through the Illinois Student Assistance Commission to colleges and universities who participate. Participation in the program will be tracked by ISAC and reported back to the Illinois General Assembly.
Here is a current list of how Illinois public universities plan to utilize the AIM HIGH Grant program:
Chicago State University
Eastern Illinois University
Northeastern Illinois University
Southern Illinois University – Carbondale
Southern Illinois University – Edwardsville
University of Illinois – Chicago
University of Illinois – Springfield
University of Illinois – Urbana Champaign
We encourage universities who have not yet announced their plans to share this information with our members when it becomes available.
The goal of all of the above legislation is to strengthen Illinois colleges and universities while also making them more affordable for students across our state. We know that there is still much work to do but we are excited to see positive change that stands to have an immediate impact for our Illinois students.
The Government Relations Committee would like to thank the members of the HEWG: Sen. Scott Bennett, Rep. Dan Brady, Rep. Kelly Burke, Rep. Norine Hammond, Sen. Kim Lightford, Sen. Pat McGuire, Rep. Bob Pritchard, Sen. Tom Rooney, Sen. Chapin Rose, Sen. Paul Schimpf, Rep. Katie Stuart, and Rep. Chris Welch. We encourage our members to reach out to these officials to thank them for their work and to encourage them to pursue further ways to support Illinois students.
IACAC's Government Relations Committee continues to work to raise our profile as a voice for Illinois students on matters related to post-secondary education. If you are interested in learning more about our work and/or are interested in joining us for our annual IACAC Advocacy Day in spring of 2019 please email us at gr@iacac.org.