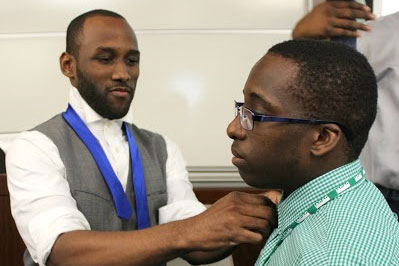 By James Fisher, University of Illinois at Chicago
The 2016 Motivate Me conference was the first year that included both male and female attendees, previous years' events being geared toward young men. From the first interactions on the bus, 2016 was destined to be a standout year. There were 139 young men and women participating this year, doubling previous attendance records. The students had numerous sessions to choose from. A few of the crowd favorites were Thinking Outside the Box, Unique Career Opportunities, I'm Not Bossy, I'm a Leader!, Fine Tuning Leadership Skills, and Am I My Brother's Keeper?. Many of the students talked about the valuable lessons they took from the event that will help them make more thoughtful decisions later in life.
I have been fortunate enough to be involved with Motivate Me for the past three years. Each year I have witnessed the attendee list grow longer and the students become more engaged with the sessions, colleges, and guest speakers. Every year the young men are given a blue tie to signify their experiences and what they have accomplished during the conference. To celebrate having the young women in attendance this year, we gave the ladies a blue bracelet. As each student walked up to collect their box with either their tie or bracelet, they radiated with the evidence of a successful and eventful day. As we move forward so will Motivate Me.
Looking back on the past four years since the start of the program, we have officially graduated a class that will embark on new adventures in life. The impact of Motivate Me speaks volumes all on its own. Following the conference, I went for a visit to one of the high schools represented by attendees. Two attendees walked over to my table to say thank you for what they were able to learn and take with them from the event. It is because of moments like this that I know we are on the right track and that we will keep up momentum in order to make the program even better going forward.