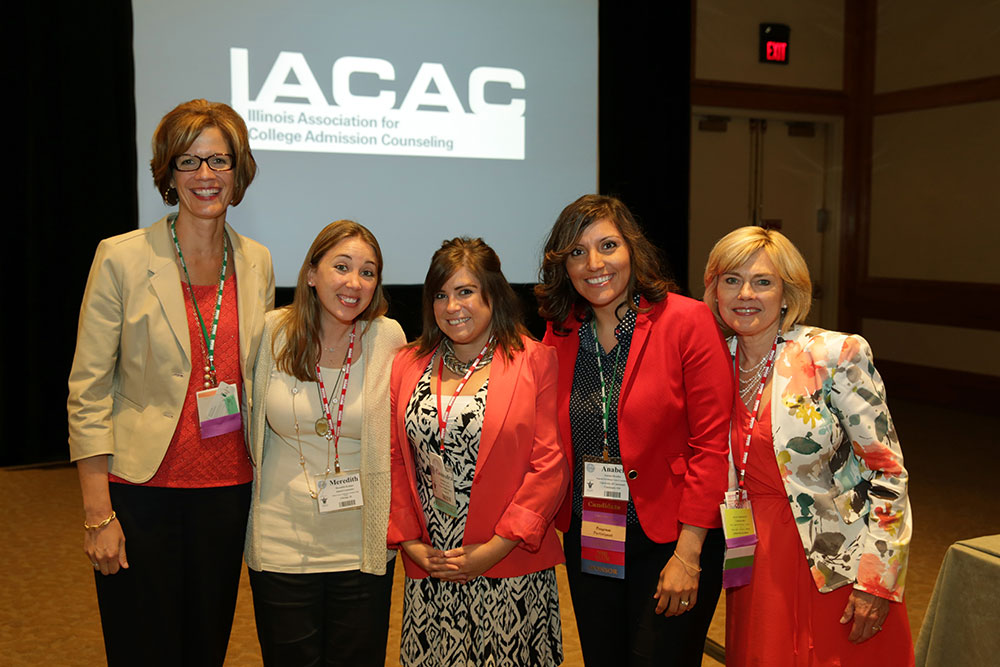 7 Years of Imagining Possibilities, 1 Reason to Give
The 2014 Project Reach Chairs with representatives from Tilden High School and Truman Middle College, last year's recipients
By Emma Adebayo
University of Nebraska-Lincoln
When Marsha Hubbuch, 2009 IACAC President-Elect, challenged us to "Reach Out and Reach Up" to those in need, Project Reach was born. Since then Project Reach has sustained its impact on the community, evolving into a charitable endeavor of IACAC. Through its work, Project Reach has challenged us, professionally and personally, to give to under-resourced and under-served schools each year. Last year, we were able to expand our support and select two schools out of the many deserving nominations. We ask you, again this year, to answer the call and imagine the possibilities your donation can have on the selected schools. This year's recipients have stories unlike any of the others and your donation will impact these schools and their surrounding communities. Most importantly, it will let these students know that they matter. 
A Look Back
Our first recipient, Pope County, is still a K-12 school with only one counselor, but our impact on those students influenced them to begin their own pay it forward campaign. A year later, we assisted Bronzeville High School in Chicago and when the 2011 Mississippi River flood devastated Cairo High School, we answered the challenge. Our 2012 recipient, Little Village Lawndale, staged a 19-day hunger strike demanding the construction of a new high school. Our most recent recipients endured a natural disaster, high homeless populations, and students lacking the resources to attend school. Tilden High School, a school that was nominated eight times, and Truman Middle College, a school that works with students who have stopped out of education and returned, were both worthy of the Project Reach distinction.
Make This Year More Successful Than Ever
As we mark the sixth year of Project Reach's impact, we ask that you make this year more successful than ever and help us reach our goals of providing support to worthy schools of Illinois. Over the past six years we have provided nearly $10,000 worth of assistance to Illinois schools. Please bring your donations of new or gently used school supplies and counseling materials to the Annual Conference and turn them in at the Project Reach Table and/or sign up for the annual 5K Run/Walk. We invite you to imagine new possibilities, envision an unexpected future, and accept the challenge and challenge others to give to Project Reach.