 Motivate Me: A New Conference for Young Men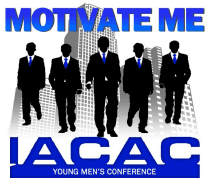 By Wallace Holder
Grand Valley State University
Through the support of IACAC and the College Awareness and Preparation Committee, the Young Men's Conference – Motivate Me is a one-day event that provides an opportunity to inform, inspire, motivate and empower 125 young, diverse males in the Chicagoland area. Students will have the opportunity to engage with secondary and post-secondary education professionals whose goal is to strengthen their focus on the future, successful completion of high school and the pursuance of higher education. The Young Men's Conference will take place at Concordia University of Chicago on Saturday, June 1, 2013 from 8a.m. – 3p.m. Attendees will be provided continental breakfast, lunch, transportation and conference materials with no fee.
The conference will feature workshops, a student panel and keynote speaker, all led by adult males who have used their education to achieve goals both personally and professionally. 
Sessions will cover the following topics:
The importance of academics
Facing adversity
Becoming a man
The importance of mentorship
Leadership
Male students who will be completing their freshman year of high school in spring 2013 should apply. Students must have a minimum 2.0 grade point average after their first semester of high school to be eligible for the conference. Males from under-served areas and of diverse socioeconomic and cultural backgrounds are strongly encouraged to apply. 
Your support of the conference is essential to its success. The committee is in need of donations in the form of:
125 pens
Notepads/binders
Draw-string backpacks
Give-a-way items
Monetary contributions, contact DJ Menifee at (630) 474-9785
If you and/or your institution are interested in donating materials to the Young Men's Conference, please contact Diliana Velasquez at (708) 209-3105 or mail items to: 
Diliana J. Velasquez
Assistant Director of Admission
Concordia University Chicago
7400 Augusta
River Forest, IL 60305-1499
Nominate students or be a part of the Young Men's Conference or contact us with questions.