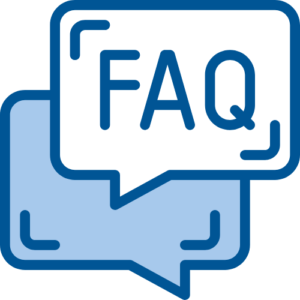 *NEW* 2021-2022 Membership Model
In the Spring of 2021, the IACAC membership voted to approve a new model for membership. This new model is now in effect. Additionally, the membership voted to adjust the membership year to begin on June 1st starting in 2022. Therefore, the 2021-2022 membership year will run from October 1, 2021 to May 31, 2022 and the 2022-2023 membership year will run from June 1, 2022 to May 31, 2023.
How do I renew my membership?
That depends. In the past, each individual member was responsible for renewing their own membership and that is no longer the case for some membership types. If you are a Retiree, Graduate Student, or Independent Counselor, you will renew just like you always have. College/University, High School, Service Organization, and For-Profit members have been assigned to a Team account based on their organization name. Each Team account holder will be sent instructions on how to renew everyone's memberships.
How do I decide how many members to choose?
Below are some scenarios to help you decide.
High School A has 4 counselors that would like to join IACAC as voting members but they'd like to have an administrative professional manage the main team account. High School A would choose 4 members ($80) and not 5 members ($165) when renewing as the person holding the team account spot doesn't count against members.
High School B has 4 counselors that would like to join IACAC as voting members but they do not have an administrative professional to manage the main team account. One of High School B's members will have to manage two logins: one for the organization and another as a staff member. Once the organizational account is renewed, the main account holder will invite themselves as a staff member, similarly to inviting other staff.
College C has 2 regional representatives and an administrative professional. College C chooses 2 members as the administrative professional serves as the team account holder only and the 2 regional representatives use the membership staff accounts.
Since this is all new, if you need to add someone else as the team account holder before renewing, please email iacac@iacac.org. Team account holders can only be changed from our end.
I used to have an individual account but I've been converted to a team account, what now?
Your previous individual profile/account has been converted to a team account. You'll need to re-create a new staff member profile after the team is renewed, from within the team account. You can simply invite yourself, just like you would another staff member. When participating in Groups or registering for events, be sure to login as your staff account rather than the team. Essentially, the team account should only be used to renew, edit members/staff, and edit organizational information.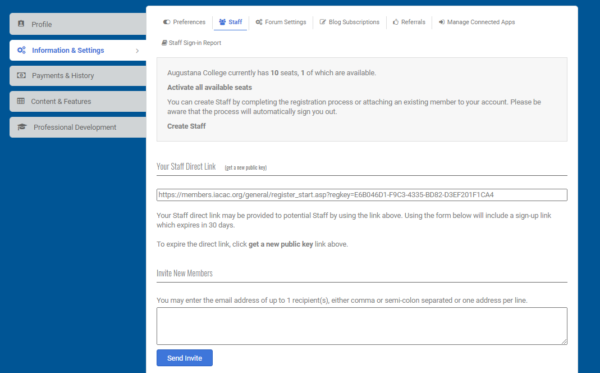 Pro tip: Set up your team account with your organization's information, see below.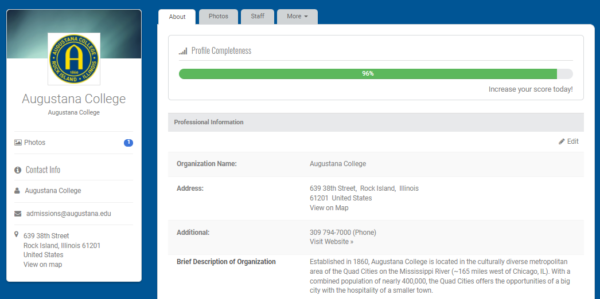 How do I know if I need two accounts?
If you are an administrative professional for your organization and will not need voting membership within IACAC and will not participate in committees then you only need to invite the staff members who will.
If you are an individual that will need voting membership within IACAC, will participate in committees and events then you need to follow the steps emailed to you for creating a new individual profile (additional to your team account login).
After my team account holder renews, what happens?
You will be able to login using your previous credentials. Be sure to renew your individual profile each year and update all fields. Your staff member profile will be used to verify voting credentials so it is crucial to keep it up to date.
As IACAC grows our diversity and inclusion efforts, there is a fundamental need to understand the demographics of our members. In general, the more an association knows about its members, the better it can serve them. With that in mind, we are once again asking all members to complete their staff profile in its entirety.
IACAC is committed to diversity, equity, and inclusion, and we view data as an essential tool to practice this commitment. The data collected will serve multiple purposes: to help IACAC understand the members we serve, to equip the board and future leaders with critical data, and to track our progress with meeting strategic goals. Please note the information you provide in your member profile will not be shared with or sold to any outside parties. IACAC will hold this sensitive information in strict confidence and will not release or disclose it for any reason.
What if I'm the only member from my organization?
While we hope this allows for a few more members from your org, we know that's not possible for everyone. If you will be the only member from your institution, you will have two account logins: the Team account and a Staff account. The Team account provides us and all members with organizational details while the Staff account provides individual/professional information. The Staff accounts are what IACAC will use for voting verification so all potential voting members need to complete their Staff profile entirely.
I work for an entire school district rather than an individual high school, how do I join?
Individuals that can claim that they work at/with only one high school should join under that high school's team account. For those that work for a district or need to join at the district level so that higher membership savings can be realized, a district team account can be created. Some district accounts already exist so it's best to reach out ahead of joining to confirm whether you should join as a new district or join an existing team. For help with this, contact Erin Hoover.
Changing membership levels
To change membership levels during the year or during renewal, please contact Erin Hoover.