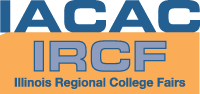 Registration
More than 600,000 Illinois high school students will be invited to attend the Illinois Regional College Fairs that will be held throughout the state during the school year.
These college fairs are projects of IACAC and are planned and presented by the host institutions and participating high schools.
IRCF registration is now closed. If you need to edit an existing registration or would like to inquire about a new registration, please contact Erin Hoover at ehoover@iacac.org.