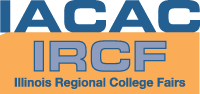 Registration
More than 600,000 Illinois high school students will be invited to attend the Illinois Regional College Fairs that will be held throughout the state during the school year.
These college fairs are projects of IACAC and are planned and presented by the host institutions and participating high schools.
IRCF registration for 2022-2023 for colleges/universities is now open.
Students will find their registration at strivefair.com. 
Fee Structure
Total Number of
Programs Attending
IACAC Member
Registration Fee
Non-Member
Registration Fee
StriveScan
Fee
1
$230
$380
$20/fair
2-6
$430
$580
$20/fair
7-10
$580
$730
$20/fair
11-16
$730
$880
$20/fair
17-20
$830
$980
$20/fair
21+
$955
$1,105
$15/fair
Confirmation material will be sent from the host site.
Registration indicates that the institution and its staff members agree to abide by the registration contract and Illinois Regional College Fair regulations.
Student scanning will be available at all of the fairs and fees are included in the registration process.