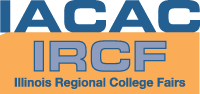 More than 600,000 Illinois high school students will be invited to attend the 36 Illinois Regional College Fairs that will be held throughout the state during the 2017–2018 school year.
These college fairs are projects of IACAC and are planned and presented by the host institutions and participating high schools.
Fee Structure
Total Number of
Programs Attending
IACAC 
Member Fee*
Non-Member 
Fee
1
$225
$375
2-6
$425
$575
7-11
$575
$725
12-16
$725
$875
17-20
$825
$975
21+
$950
$1,100
* This fee is only for institutions or individuals who hold a current IACAC membership. Join IACAC
Registration
Credit card or check payment accepted for online registration.
Only checks accepted for paper registration form.
Confirmation material will be sent to you from the host site.
Registrations for each program will be accepted until space is filled.
Registrations will ONLY be accepted from accredited, degree-granting, postsecondary institutions; vendors, military recruiters and ROTC officers cannot be accommodated.
Registration indicates that the institution and its staff members agree to abide by the contract and Illinois Regional College Fair regulations.
Fees are non-refundable.
Student scanning will be available at all of the fairs, but registration is separate through StriveScan

College Fair Student Scanning
Electronic student scanning will be available at all Illinois Regional College Fairs and other college fairs throughout Illinois using the StriveScan app. The cost is a flat rate of $24 per fair, and allows for unlimited student scans and multiple representatives. Student data can be exported instantly. Fair organizers are working hard to get all students registered with a barcode.
Separate registration is required at StriveScan.com